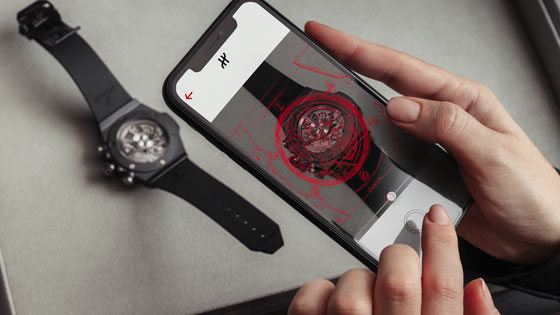 After being one of the first companies in the world to equip its watches with an electronic warranty in 2009, Hublot innovates and introduces a new e-warranty on its timepieces.
The watchmaker has been working on the development of algorithms in partnership with the company KerQuest since 2017. The goal was to develop a technology that relied on recognition of the specificity of the watch, namely the microstructure of the materials that composing it. As an additional challenge, although the recognition of a material in the broadest sense has been studied for several years, its actual unitary recognition had thus far been problematic. With the evolution of smartphones and in particular the improvement in camera definition, as well as the development of artificial intelligence, both companies were able to perfect the first visual recognition of a watch.

Each and every Hublot watch is unique: even two watches of the same model leaving the Manufactures are distinguishable thanks to the singularities of their microstructure. The challenge faced was how to read them and process them in a reliable and practical way. The Hublot e-warranty is based on the unitary recognition of the specificities of all of Hublot's watches and models.

The main technology is found at the very heart of the Manufacture, where one might say the "passport" of the watch is established. Specially designed optical readers image and reconstruct the reality of each piece in full detail, in very high definition. Every watch is indeed "photographed" as it comes out of production. When the watch is sold in a boutique, the point of sale activates the warranty using the Hublot-e-warranty application (which takes a photo of the watch head alongside a duplicate displayed on the screen). The photo is sent to the computing infrastructure that will process it and automatically activate the warranty if the timepiece has been correctly identified unitarily. Once the watch has been recognised and authenticated, the customer receives their Hublot e-warranty via the channel of their choice (SMS, E-mail, WhatsApp, WeChat, Instagram, Messenger, etc.), and will then easily be able to join the Hublotista community.

The Hublot e-warranty technology is already compatible with all models produced by the Manufacture since the start of 2020.
December 17, 2020