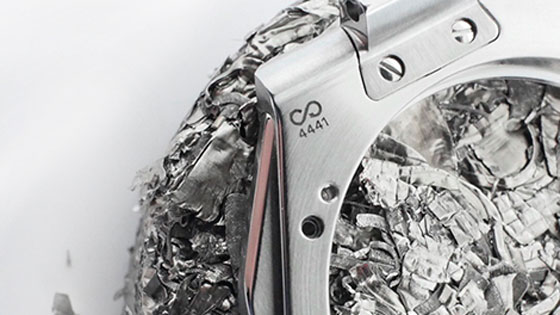 Renowned for their ultra-strict respect for tradition and precision, the watchmaking and medical sectors are often accused of being less than transparent in terms of the traceability of recycled raw material waste within their raw material procurement networks.
This is no less the case in Switzerland: the country is one of Europe's biggest consumers, using around 120,000 tonnes of stainless steel every year.

Building further on its responsible ethos, Panatere, a pioneer in the transformation of fully recycled and recyclable raw materials, was recently accredited in accordance with the strict DIN and CE standards. With this long-term work favoring integrated and short loops, Panatere joins the movement of "Circular Economy Switzerland". The results reflect a substantial reduction in the carbon footprint during standard secondary steel production.

Panatere teamed up with 40 or so key partners to secure this achievement. Each one had to meet a strict set of specifications in order to ensure collective success on a human scale within a positive circular economy.

Raphaël Broye, owner of the enterprise based in Saignelégier, explained the steps in his 100% recycled steel process. The company recovers and recycles scrap steel – waste or swarf – from the production of watch components. The first step of the solution involves selective sorting and separating of different grades of steel into compartments.

These compartments are then scanned using a hand-held spectrometer to enable their contents to be permanently tracked, before being sealed. The recycling partner transports the material to the blast furnaces of two foundries where the scrap can be recast. The foundries, located within a 250km radius, produce this secondary steel. The final step is transporting this cast material in ingot form from the foundry to the storage facility.

Panatere's solution is responsible and sustainable. It enables the production of recycled steel with a ten-fold reduction in the carbon footprint compared to the standard process.

The company's efforts impact the material's price per kilogram. To remain competitive, Panatere receives state funding linked to its environmental performance. This enables it to offer prices equivalent to those of similar products lacking the benefits of this socially responsible and sustainable investment – and will in fact soon be cheaper following the introduction of a standard.

"There have admittedly been certain constraints, but we're really delighted to be able to share these accreditation results", stated Raphaël Broye. "Panatere has spent more than four years developing its global process and getting the quality formula right, without the addition of chemicals or minerals. In fact, we only cast 50 tonnes per steel grade, and not the 200 tonnes required by the standard. We produce two containers per cast, totalling 14 minutes' work – a drop in the ocean for the steel producers. The framework conditions were difficult to achieve and oversee. An accredited testing laboratory in La Chaux-de-Fonds helped us certify the quality of our material in terms of polishing and machining capability."

This fully recycled AISI 316L grade 4441 stainless steel can be reused at the end of its life. Panatere combines its short supply chain production with a circular economy. Project manager Liselotte Thuring is keenly aware of the systematic nature of this approach, and continues to take a broad view. Within the next few years, Panatere aims to install a regional industrial solar furnace – a public commodity to be made available to other industries to safeguard the future of their business. These long-term visions and objectives will enable small-scale production with a very low carbon footprint. A study has estimated that the solar furnace would reduce the carbon footprint for steel production by a factor of 165, compared to standard production. This will enable optimised management of waste and other thermal applications while maximising sustainable production for future generations. It represents an investment in the "economy of life" in the form of clean energy.
December 17, 2020