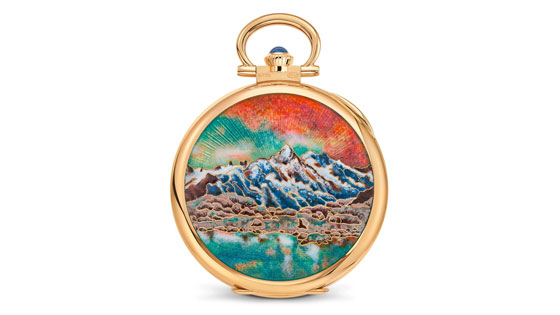 From November 4th to 14th 2020, at its Geneva Salons, Patek Philippe is presenting the most comprehensive collection of rare handcrafts masterpieces ever on display there.
It is a unique opportunity to see these creations at one location as well as to admire the artistry of craftsmen and their venerable artisanal skills.

Every year, in its endeavour to nurture the expertise that for several centuries has been used to decorate timepieces, Patek Philippe presents a collection of one-of-a-kind masterpieces and limited editions that pay tribute to a wide range of remarkable specialities. This year, the collection is particularly rich, comprising more than 70 pocket watches, wristwatches, and dome table clocks that highlight ancestral techniques including manual engraving, cloisonné enamel, precious miniature painting on enamel (a Genevan specialty), flinqué enamel on hand-guilloched decorations, paillonné enamel, enamel with Limoges painting, Fauré enamel (relief enamel), Longwy enamel on faience, and gemsetting. The collection also features the highly exclusive technique of wood micromarquetry as well as mixed-technique pieces that combine marquetry, cloisonné enamel, and manual engraving. While exploring the exhibits, visitors can also observe the artisans at work as they demonstrate their virtuosity in enameling, miniature painting on enamel, engraving, marquetry and guilloching.

The "Rare Handcrafts 2020" exhibition offers the sole opportunity to see the complete inventory of all pieces before they are delivered to private collections around the world.
October 29, 2020