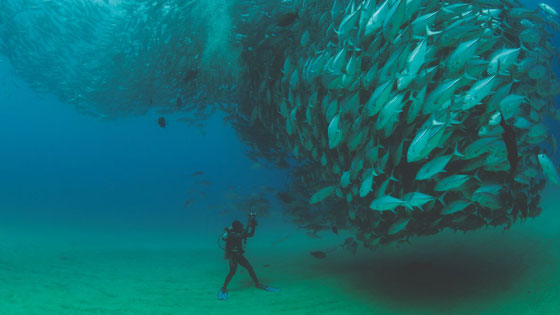 Ever since the launch of the first Fifty Fathoms in 1953, Blancpain has been consistently associated with the sea.
Twelve years ago, to share its passion for diving, exploration and the beauty of the world's oceans, the manufacture launched the Edition Fifty Fathoms project, a collection of annual publications dedicated to the most stunning underwater photographs.

Blancpain is convinced that public awareness is vital to achieve its goals of preserving and protecting the world's oceans. In continuation of the important role played by the famous watch in the history of diving, the brand collaborates with Editor Dietmar W. Fuchs, and invites renowned photographers to share the wonders of the underwater world. The result, Edition Fifty Fathoms, is an annual limited-edition publication launched in 2008 which presents four underwater photography portfolios. Fifty photographers have published their work, starting with the patriarch of underwater photography, Ernest H. Brooks II, who notably uses light and shadow to display his passion and creativity.

The new Edition Fifty Fathoms recently unveiled has been methodically designed to pay tribute to the first modern diving watch. Each book consists of 50 double-page spreads, each measuring one fathom around its perimeter when open (hence a total of 50) and comprises a selection of 50 underwater photographs. The number 12 also has its own significance in the conception of the publication. It is the number of letters in the name Fifty Fathoms. The collection of these books is now complete, 12 years after its launch.
October 15, 2020