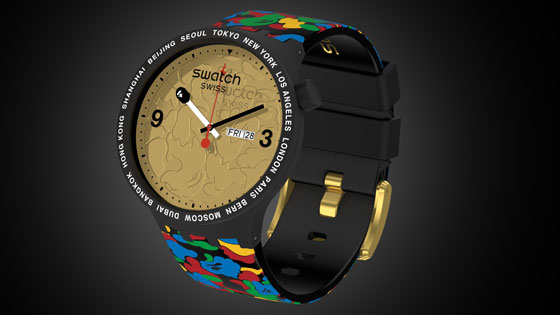 Swatch is proud to announce the second collaboration with A Bathing Ape – the legendary Japanese streetwear brand.
A perfect match, A Bathing Ape – also known as Bape – provides its disruptive and unconventional flair, which catapulted the brand to the cultural forefront; while Swatch brings in its innovative watchmaking skills. Based on the boldest Swatch product line, the design of these three watches is about expressing oneself and putting forward one's individualism, encouraging the winner within us all to shine.

The Swatch Big Bold product line, a statement piece proudly presenting a striking 47mm watchcase, is the obvious choice for this joint venture. All three watches – Tokyo White Multi Camo, Tokyo Black Multi Camo, Tokyo Gray Multi Camo – feature multi-coloured print on their straps representing all the different cultures and people connected by their uniqueness. While the watches have Tokyo in their name and on their loops, a tribute to the birth city of Bape, each watch features both brands' favourite (mega)-cities on their bezel. The packaging comes in the signature Bape camouflage print design; the iconic statement envelops the hard-case box. For die-hard fans, a surprise highly limited set with subtly modified designs awaits.
September 10, 2020