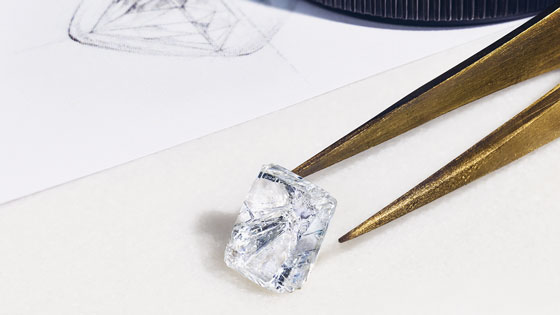 This October, Tiffany & Co will take an unprecedented step in diamond traceability by sharing the full craftsmanship journey of its newly sourced, individually registered diamonds (0.18 carats or larger).
Disclosing the country where each stone is crafted and set in jewellery marks an industry first. This follows the 2019 announcement that Tiffany would become the first global luxury jeweller to provide the provenance – region or countries of origin – of its individually registered diamonds. By taking transparency to a new level and sharing the full craftsmanship journey of its diamonds, Tiffany reinforces the brand's commitment to ensuring that every step in the journey of its products contributes to the well-being of people and the planet.

A diamond's region or countries of origin, along with where it was cut and polished, graded and quality-assured, as well as set in jewellery, will be shared with Tiffany customers for each newly sourced, individually registered diamond. This information will be available from any sales professional as well as printed on the Tiffany Diamond Certificate.

Tiffany continues to lead the industry by bringing a new level of transparency to its diamond supply chain. The brand is unique among global luxury jewellers in owning and operating five of its own diamond polishing workshops around the world. This is where nearly 1,500 artisans ensure excellence of cut is obsessively considered to maximise brilliance, dispersion and scintillation – not just carat weight. With Company owned diamond workshops in Belgium, Mauritius, Botswana, Vietnam and Cambodia, as well as a Tiffany Gemological Laboratory in New York and five jewellery manufacturing workshops in North America, Tiffany can ensure its own superlative standards are met.
September 10, 2020