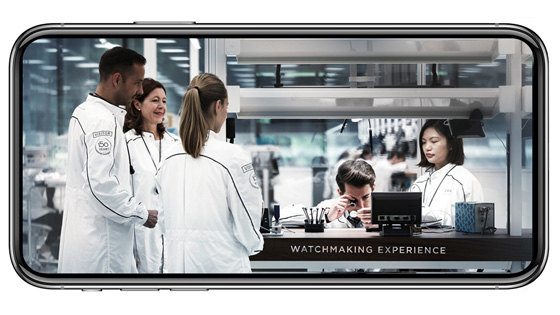 From September 28th onwards, IWC will be offering all watchmaking enthusiasts the opportunity to discover the company's headquarters from the comfort of their sofa.
This new and exciting virtual experience will take place live from Schaffhausen and will offer a personalised tour of the museum and the Manufacture, as well as the opportunity to observe a watchmaker at work.

Offering the same insights enjoyed on the ever-popular in-person tours, each virtual journey will be adapted to the specific interests of guests and narrated in real-time by knowledgeable guides. A highly interactive and unique experience, the tours' ease and convenience will open up IWC's world and its iconic timepieces to more people than ever before.

With these newly developed virtual tours, visitors will go on an interactive, personalised and memorable journey of discovery. Not only will they gain exciting insights into the history and the complex engineering behind the timepieces, but they will also be immersed into the world of IWC in a completely new way.

The journey begins with an introduction to the brand's rich history before a guide welcomes guests to the manufacturing centre. Short videos with live commentary and video links to different departments place visitors at the heart of the watchmaking process. From the production of movement parts, to cases and assembly, every significant step is covered. Guides also offer a deep-dive into more specific topics like mechanical decoration or advanced case materials, if desired.

IWC's patented Cyberloupe technology delivers another tour highlight. The specially developed version of a watchmaker's magnifying glass features an integrated camera and network connection, allowing visitors to stream the watchmaker's viewpoint in real-time to their screens. An unprecedented way to explore the inner workings of a movement or learn about complications, the Cyberloupe allows online visitors a fascinating look at IWC's intricate work.
September 03, 2020