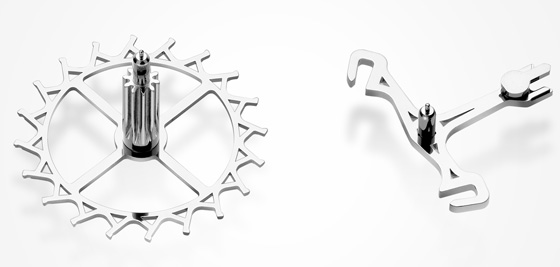 In a market of 8.5 million mechanical watches, almost 15% of escapements (pallet-levers, escape-wheels) are made by Mimotec SA.
Founded in 1998 by Dr. Hubert Lorenz, the Valais-based company has established itself over the years as an important watch industry player. While better known for prototype-making and small series, UV-LIGA technology – a manufacturing method based on galvanic growth – is now also used for mass production.

Among the almost 2,500 different components produced each year in the Sion plant, the escape-wheel and pallet-lever are by far the firm's best-sellers, with more than a million wheels delivered in 2019. The escapement is a fine example of a strategic component for which the UV-LIGA process offers many advantages over traditional production methods. One of the edges it enjoys lies in the choice of electroformed nickel-phosphorus (NiP) material, which is 100% non-magnetic. Combined with high precision and design freedom, this process has now become a must for escapement components (escape-wheel, pallet-lever and guard-pin).

In order to deliver a product that is as complete as possible, the company also offers to supply assembled escape-wheels and pinions. Equipped with ultramodern facilities and building on several years of experience, Sigatec, a sister company, now assembles silicon and LIGA escapements.

Open to the entire Swiss and foreign watchmaking industry, Mimotec is regarded as a reliable partner offering robust technology from prototype to mass production.
September 03, 2020