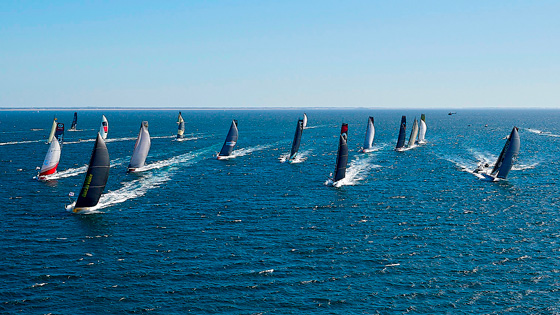 The first sports event to be resumed after the confinement, the Vendée-Arctique Les Sables d'Olonne conveyed an optimistic and joyful message, as most participants had not sailed for several months given the public health situation.
The solo race took them 3,600 nautical miles (about 6,600 kilometres) on an innovative route around a large triangle culminating on the edge of the polar circle (60°N), passing through Icelandic volcanic territories and the deep blue of the Azores.

The skippers of the IMOCA Class thus ventured north for the first time, single-handed, non-stop and without assistance. This test gave each of them an opportunity to test their boat, which had recently emerged from the shipyard. It was a real mental and technical warm-up, which pushed limits, broke in the boats and validated the latest modifications in order to fully get into the spirit of the Vendée Globe and qualify for it.

The IMOCA Class and the partner watch company also lent an extra dimension to this adventure by creating the Ulysse Nardin Challenge: a race within the race to celebrate the first skipper-adventurers to pass the IOC-UNESCO Waypoint (66°34 N-25 W). The latter was presented with a blue Diver 44mm timepiece, a wristworn call to adventure.
July 09, 2020