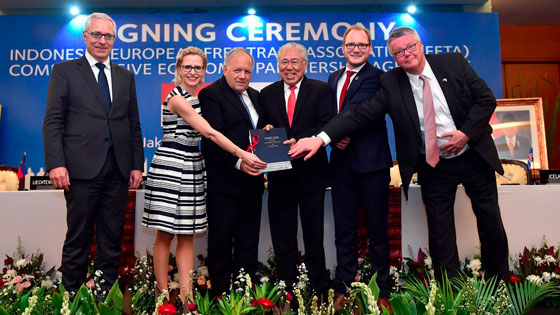 16 December 2018: signature of the EFTA-Indonesia free trade agreement in Jakarta (source: EFTA secretariat)
Switzerland's economic prosperity relies to a very large extent on the dynamism of its export sector.
Free trade agreements, negotiated bilaterally or as part of the European Free Trade Association (EFTA) are an essential tool in Switzerland's foreign economic policy and have contributed significantly, for many years, to the success of the Swiss industrial sector and the jobs it supports, in several respects.
Indeed, the scope of free trade agreements is far wider than simply removing customs duties. First and foremost, these agreements (30 in total, covering access to 70 countries and territories), establish positive framework conditions for trade, primarily by guaranteeing the transparency and stability of the applicable rules and in so doing, creating more legal certainty for commercial operators. So-called comprehensive agreements go even further, including provisions on reciprocal protection of investments, protection of intellectual property, economic cooperation and increasingly, on sustainable development. At a time when multilateralism needs to reinvent itself from the ground up, free trade agreements are the tool best suited to supporting Switzerland's competitiveness and commercial interests on global markets, all the more so since many other countries and trading blocs are largely committed to the same path.
The Swiss watchmaking industry currently exports over 95% of the items it produces and free trade contributes to its success with an international clientele. Eight out of ten watches exported currently benefit from the preferential treatment guaranteed by free trade agreements. Not only are these watches subject to no or very reduced customs duties, which makes them more affordable, but they also benefit from streamlined customs procedures. Commitments relating to the protection of intellectual property (trademarks, designs, models, etc.) are particularly important for the watchmaking industry and another decisive aspect for the sector. The agreement signed with Indonesia meets all these objectives. In particular, it will remove all customs duties on imports of Swiss watches within a maximum of nine years. The savings currently expected are more than one million francs (base: 2019).
The agreement with Indonesia was adopted by the Swiss Parliament by a large majority in December 2019. Its scope is exhaustive, insofar as Switzerland has successfully negotiated an extensive agreement on sustainable development, including binding commitments that Indonesia had not previously made with any other commercial partner. Palm oil, one of Indonesia's main export products, is central to the sustainability strand of the agreement. It provides for a reduction in customs duties on a given volume of Indonesian palm oil, but only for certified products and under certain conditions.
Switzerland and the Swiss watchmaking industry need the free trade agreement with Indonesia, just as they need those that already exist with the European Union, Japan, China, the United Kingdom, Mexico or South Korea, to name but a few. The agreement represents an important opportunity for all Swiss businesses to gain easier access, on the basis of clear rules, to a market of over 260 million people and one of the world's 20 largest economies. It provides a legal framework and guarantees for balanced trade, alongside significant commitments to support sustainable development. For all these reasons, the FH supports the free trade agreement between EFTA and Indonesia and opposes the referendum launched against it.
June 29, 2020