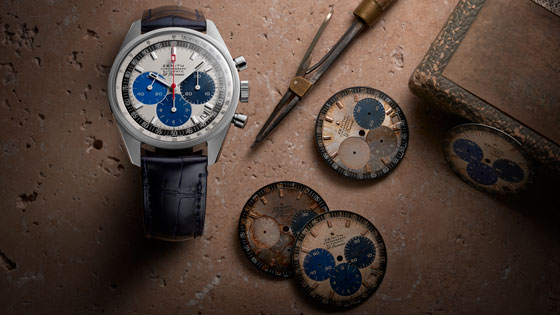 Zenith continues to celebrate its El Primero calibre and, for its first Manufacture edition, is unveiling a hitherto unknown dial prototype of its most emblematic chronograph.
Like a time capsule sheltered from our ever-changing world, the grenier (attic) of the Zenith Manufacture is a special place indeed, with many secrets still being uncovered today. While going through the attic of the main historical Zenith Manufacture, an unexpected discovery was made.

There in the attic, among the countless artifacts and pristinely preserved tools that the heroic Charles Vermot had hidden away in the 1970s during the quartz crisis, a small, unassuming and unlabeled box was uncovered. In it, remarkably preserved after decades, were a number of dials: the signature El Primero tri-color dial of the A386 that became a design icon, and more remarkably, another version of the tri-colour dials, using three different shades of blue. No records exist of these presumably prototype blue tri-colour dials, but considering that they were kept with prototype dials of the A386 featuring the same configuration in which the latter model was commercialised in 1969, one can assume that it was part of the original prototype dials for the A386, and that Charles Vermot himself hid them in the attic along with all the other El Primero tools.

To bring this prototype to life, it was only appropriate that Zenith should produce it as a Revival piece. The 38mm stainless steel case with pump-style pushers is an exact reproduction of the A386 from 1969, using the blueprints of the original to preserve the proportions of the iconic chronograph. Beating within it is the same movement it would have had if it were made in 1969, the venerable El Primero high-frequency automatic column-wheel chronograph.

As a Manufacture piece, this Revival edition is intended to be an exclusive piece, available uniquely to visitors of the Zenith Manufacture. Nonetheless, given the current situation, which prevents it from offering factory tours, Zenith is making the Manufacture Edition available on e-commerce, giving customers the opportunity to purchase the watch.
June 11, 2020