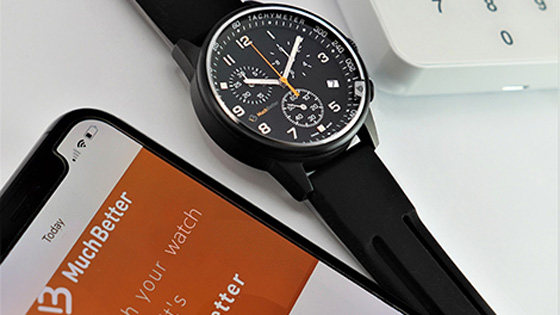 Winwatch, Swiss supplier of intelligent watch glasses, and payment app MuchBetter, have joined forces to launch a steel timepiece equipped with a contactless secure payment function.
The STISS (Swiss Technology Inside Smart Sapphire) payment glass is ideal for people who appreciate the look and design of a luxury Swiss analog watch, but with the added payment function. This technology avoids the constraints of smartwatches, such as the need for regular recharging, internet dependency, technological obsolescence and cumbersome designs.

Winwatch is the first company to seal a payment chip (EMV) and antenna within a watch glass face. This process, which requires no batteries, can be used in millions of locations worldwide, wherever Mastercard is accepted. This innovation allows any manufacturer of timepieces to quickly and easily create their own contactless payment watch and even equip their existing models with the STISS glass.

The current health crisis, which involves requesting consumers to prefer cash-free payments, is conducive to an increase in such payments. The MuchBetter watch works like any other contactless payment card, once the user has paired it with their digital wallet (MuchBetter applic).

By combining the unique capabilities of STISS sapphire crystal with the best e-wallet solutions from MuchBetter, Winwatch has created a truly unique and affordable Swiss made luxury product (295 francs). This watch is now available in all countries of the European Economic Area (EEA), including the United Kingdom and Switzerland. The wearer can also choose one of the four available currencies (CHF, EUR, GBP, USD).


May 07, 2020