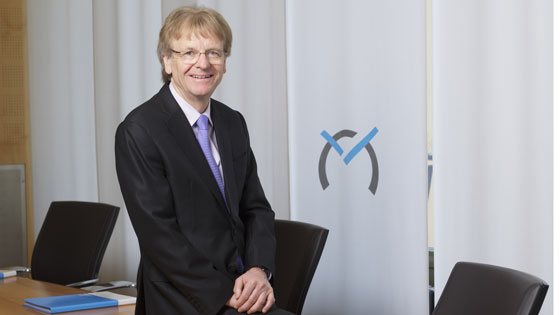 Who would have thought it? Who could have imagined, just a few months ago at the end of 2019 when we found out something was "in the making" in China, that Switzerland would be facing a wave of such magnitude today?
Remember SARS in 2003, when we felt as if we had seen it all with Asian exhibitors being banned from opening their booths at Baselworld (Zurich venue)? Yet it was nothing compared with what is happening today and life is indeed proving stranger than fiction. What a lesson in humility when confronted with "natural" events that are beyond our grasp!
In the face of this human, social and economic tragedy, our first thoughts go out to the families of the victims, to people who are sick and to those who are alone or whose jobs are threatened.
We are naturally also thinking of all the watchmaking and non-watchmaking companies that are deeply affected in terms of their operations or whose very existence is in jeopardy.
On March 19th this year, the FH joined other Swiss economic stakeholders in asking the Federal Council to allocate additional financial resources and to maintain the possibility of pursuing economic activity for companies wishing to and able to do so. It was important to send a message on behalf of the economy in relation to the other demands made on our authorities. This request to renounce total confinement is not a selfish economic act. Indeed, any such activity, insofar as it can be continued, must be carried out in compliance with the prescribed health and safety rules. It is really a question of being able to maintain an economic fabric as far as possible, not only for now, but above all for the future when business will resume its normal course.
Just as the FH was considering the introduction of home working, it was brutally imposed by circumstances. There are many lessons to be learned from this phase in terms of this work mode's advantages as well as disadvantages, such as the lack of spontaneous contacts.

Nonetheless, home working enables the FH to continue fulfilling its mission, albeit at a slower pace. Reports of the seizure of fake Swiss watches continue to reach us as a result of our operations. We take part in legislative consultations in Switzerland and abroad to identify the watchmaking impact of future regulations and intervene accordingly to defend the interests of our Swiss watch industry. Standardisation work is conducted by videoconference. Through our various channels – namely the Revue as well our Internet and Extranet sites – we continue to inform our members on the current situation, the measures taken by authorities as well as various watchmaking topics. Even if some articles might seem unimportant in light of current upheavals, life goes on in another form – and it must indeed go on. The FH remains close to its members even if it is aware of the limits of its action regarding the existential problems threatening several of them.

I wish you all good health or a quick and complete recovery. I sincerely hope that our companies will get through this difficult period without too much damage to their substance, so that they are able to become fully operational once more when things start to improve. The Swiss watch industry will be there to answer the call when people are once again able to experience positive emotions and wish to indulge themselves.

Warm regards
Jean-Daniel Pasche
March 26, 2020