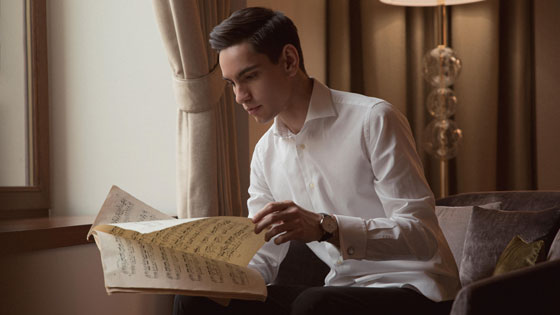 Breguet and the Geneva International Music Competition have announced the release of a new album by young Russian pianist, Dmitry Shishkin – first prizewinner (ex æquo) of the 2018 Geneva International Music Competition and the Breguet Special Prize laureate – performing works by Medtner, Rachmaninoff and Scriabin.
The Geneva International Music Competition is one of the world's leading music competitions. It aims at discovering, promoting and supporting talented young artists. The Breguet Special Prize is awarded to one of the Competition prizewinners and consists of an album recording with an orchestra. This initiative is aimed at providing invaluable support to help boost laureates' careers.

Dmitry Shishkin has been critically acclaimed by the international press for his creative approach to music, his individuality and his brilliant piano skills. In Shishkin's playing the audience can hear both excellence and playfulness. In June 2019, he was awarded the Silver Medal at the XVI International Tchaikovsky Competition. In November 2018, Dmitry won the First Prize at the 73rd Geneva International Music Competition where he performed with the Orchestre de la Suisse Romande.

In 2020, the young pianist will give a number of recitals, where he will perform the programme recorded in the album, including concerts at venues in Munich, Paris, Abu Dhabi and London.

Born in Chelyabinsk, Siberia, Shishkin demonstrated exceptional talent for the piano while still very young, giving his first solo recital at the age of three and his first concert with orchestra at the age of six. Three years later, he entered the prestigious Gnessin State Musical College for gifted children in Moscow, then the Tchaikovsky Conservatory. He is currently continuing his studies with renowned pianists and conductors, such as Epifanio Comis at the Istituto Musicale Vincenzo Bellini in Catania, Sicily, and Arie Vardi at the Musikhochschule Hannover.
March 19, 2020