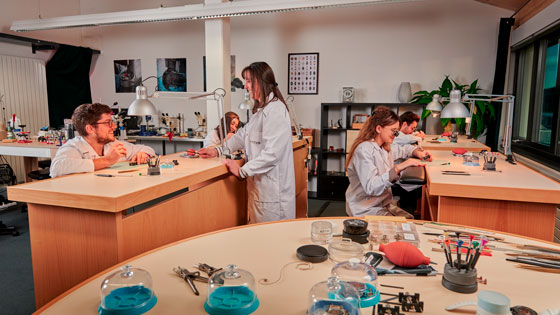 The start-up Initium, which opened its first workshop in Le Noirmont, helps bring watchmaking within reach of the broadest possible audience.
Various half-day or full-day classes enable participants to create their own Swiss made watch, from component selection to assembly of hand-wound or self-winding movements.

Over the years, the concept that originated in a Master's project by three young students without investment funds has developed, neabling the opening of a second workshop in Geneva, then a third one close to Zurich. Proud of its successful journey, the Initium team is excited to celebrate its five years of existence!

On this occasion, the company is delighted to invite all of its clients to its workshops in Le Noirmont and Geneva. Two separate events will respectively take place March 14th and 21st 2020, thus enabling the founders and their teams to welcome the participants back and chat with them.

During these two days, those who wish will have the opportunity to experience, at an attractive price, a brand-new service soon to be offered by Initium: replacing one or more components of their own watch to give it another look.

The workshops will also welcome the participants' friends as well as other people interested in the activity of Initium, who will join the conversations with watchmakers over a drink. During this day held in Le Noirmont, visitors who so wish will also have the opportunity to enjoy a guided tour of the Musée de la Boîte de Montre (watch case museum).
March 12, 2020