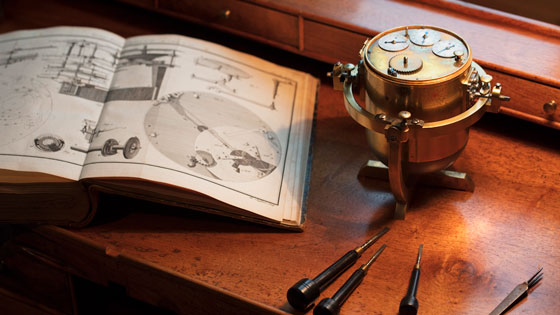 In 1787, Ferdinand Berthoud, then Watchmaker - Mechanic by appointment to the King and the Navy under the reign of Louis XVI, completed the construction in Paris of a new model of Longitude Clock with mainspring, No. XXX (thirty), indicating the hours, minutes and seconds on three separate counters.
On September 11th, he delivered the model to the Marquis de Chabert (1727-1805), officer and director of the French Navy's map and plan depot, who entrusted it to second lieutenant Jean-Louis Delmotte (1752-1816). The latter took it on board for a crossing to the Americas.

The clock was then handed over to Auguste de Choiseul-Gouffier on October 31st 1790. This French diplomat made several voyages to the Aegean Sea and published a three-volume work – Voyage pittoresque de la Grèce – which was a great success.

At the time he received the longitude clock, Choiseul-Gouffier was serving as ambassador to Constantinople, a position he held from 1784 to 1791. During the French Revolution, he emigrated to Russia in 1792, where he was appointed director of the Academy of Arts and the Imperial Libraries. He did not return to France until 1802.

This type of clock, better known as a "marine chronometer", was quite literally a "timekeeper" because it accurately kept track of the time at the port of embarkation throughout the voyage, despite variations in temperature, humidity, as well as the pitching and rolling of the ship while sailing on the high seas. By means of astronomical observations, it thus enabled the ship's officer to determine the ship's East-West position, i.e. its longitude, and to hold the course.

The accuracy of these measuring instruments was of paramount importance to navigators, as one minute represented 14,903 nautical miles (27.60 km) of deviation from the planned route. The quest for precision drove Ferdinand Berthoud throughout his life and continues to play a fundamental role today in the development of the chronometers made by Chronométrie Ferdinand Berthoud.

A remarkable collection of watchmaking books and masterpieces by Ferdinand Berthoud, patiently built up over time by Karl-Friedrich Scheufele at the L.U.CEUM in Fleurier, is now the primary source of inspiration for the timepieces produced by Chronométrie Ferdinand Berthoud.

The conservation and restoration of these witnesses to the past is the object of consistent and meticulous attention. Restoring objects to their proper working order, without depriving them of the unique patina conferred by time, involves calling upon the services of specialised restorers mastering ancestral techniques. Lengthy and exacting work, preceded by in-depth historical research, is essential to preserving an important heritage bearing witness to the genius of a watchmaker from the Age of Enlightenment.
February 27, 2020