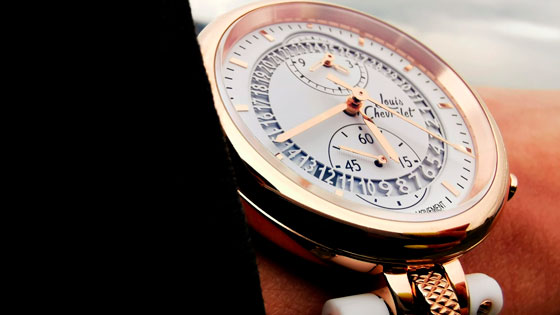 The Porrentruy watchmaking company innovates by presenting its latest patent-pending innovation: the flying date.
Featured in its new ladies' and men's collections (Number 8 Chronograph & Frontenac Chronograph), this new concept endows watches with a very high perceived value at very affordable prices.
The flying date consists of displaying the day of the month in 360° mode, meaning that the date indication "flies" around the dial, representing an original, aesthetic and technical way to display the evolution of time from day to day.

This innovation now makes it possible to integrate the calendar directly onto the watch dial and provides a welcome change from its conventional usage. It implies modifications to the watch movements used, operations that are carried out within the Manufacture itself.

After a successful crowdfunding operation in autumn 2018, Louis Chevrolet will launch a new campaign of this type on the Kickstarter platform with an even more elaborate and innovative version of the flying date. The project will be unveiled on March 11th, but can already be followed on social media or the brand's website.
February 13, 2020