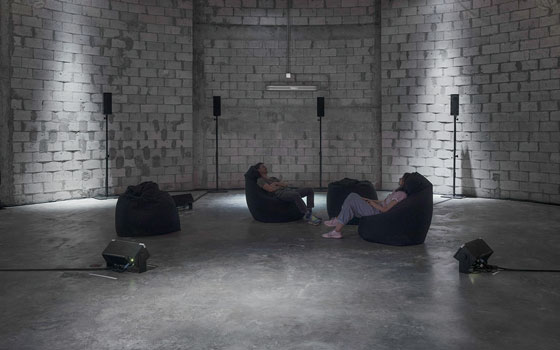 Audemars Piguet has unveiled The Art of Listening: Under Water, Jana Winderen's new in-situ sound installation at Art Basel in Miami Beach.
This work, presented in the heart of the Collins Park rotunda, has raised public awareness of the growing fragility of the marine ecosystem. It is the last chapter of the artist's research on the environmental impact of man-made sounds.

The curious were able to immerse themselves in the marine universe recreated by Jana Winderen, which consisted of a collage of different sounds recorded in the Miami port area, in the Barents Sea around the North Pole, and in the tropical oceans. This customised sound mapping provided visitors with a unique opportunity to listen carefully to underwater life and reflect on the impact of human activity on this ecosystem. Created in collaboration with Tony Myatt, the artist's long-time friend, this work was accessible to the public free of charge throughout Miami Art Week.

Since 2005, Jana Winderen has been making underwater recordings, mainly using highly sensitive hydrophones to create sounds that are usually imperceptible to the human ear audible. Underwater, sound travels almost five times faster than in the air, making it an excellent communication channel.

The resulting sound compositions thus raise awareness of unsuspected ecological emergencies: "Since my childhood, I have always been attracted to the underwater environment. This world contains so many lives and activities that are practically inaccessible to humans. Recording these sounds provides a better understanding of the plants and animals that inhabit the oceans and how they respond to the pervasiveness of human activity. When you listen to a composition, it is impossible to differentiate between nature and humanity, which I hope offers a moment of contemplation," explains Jana Winderen.

Additionally, Audemars Piguet presented Du Petit Risoud aux profondeurs du Lac de Joux in this year's Collectors Lounge at Art Basel in Miami Beach, Winderen's first site-specific commission for Audemars Piguet which followed a two-part residency in the Vallée de Joux in early 2019.
January 09, 2020