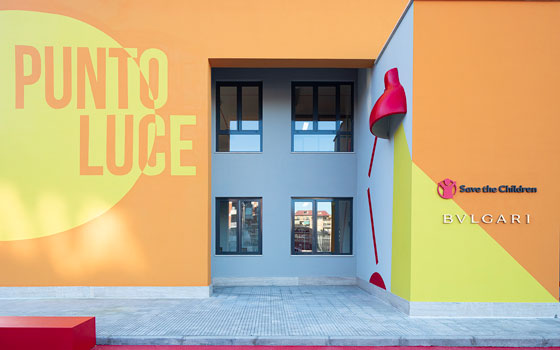 In art, jewellery and architecture, the term "punto luce" indicates an aesthetic concept: a point of sparkling light.
With the aim of illuminating the future of more than one million two hundred thousand children living in conditions of extreme poverty and deprived of education, the NGO Save the Children has created 24 "Punto Luce" centres: places for personal development assistance located in the heart of the most disadvantaged neighbourhoods in cities across Italy.

The first "Punto Luce delle Arti" centre, housed in an abandoned school in Ostia, a seaside district of Rome, is joining the programme's existing network. This space includes social activities, educational support and free training, aimed at developing talents and skills, learning arts and crafts as well as improving the future prospects of young participants.

Managed with the help of the tenth district of Rome and the social cooperative "Santi Pietro e Paolo", the educational centre aims to annually help nearly a thousand children and adolescents, aged 6 to 18 years of age.

In order to achieve the significant urban redevelopment required to host all the activities of the new educational hub, Bvlgari involved its in-house Interior Design team in creating the "Punto Luce delle Arti". Bvlgari's professionals turned the building's 1,300 square metres into a state-of-the-art safe and multifunctional environment, inspired by the convergence of light, points and lines in Bauhaus architecture and Kandinsky's pictorial research.
January 09, 2020