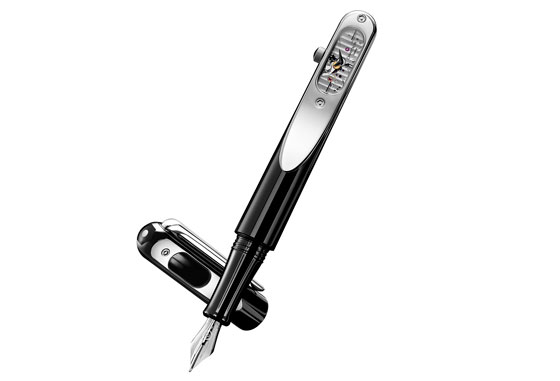 The Geneva-based Maison presents Timegraph, its first fountain pen to include an integrated watch with a mechanical movement. This exceptional product combines two jewels in the crown of Swiss excellence: Haute Écriture and luxury watchmaking.
Caran d'Ache's master craftspeople are pushing the boundaries of their craft with an instrument that stands out from the crowd. Timegraph is the result of over two years of research and development, incorporating a miniature mechanical watch movement for the very first time. The calibre with manual winding was created by Le Temps Manufacture SA in Fleurier, a Swiss horologist recognised for its expertise in high-precision manufacturing.

This technical feat was achieved thanks to the skills of highly experienced workshops involved in these two prestigious fields. A pen body with standard dimensions was redesigned to accommodate an ultra-slim movement, sapphire crystal and a unique winding system with a miniature piston pump. The innovative design features 145 components concealed in a pen with delicate curves and a perfect black PVD-coated finish.

Presented in an elegant black-lacquered wooden box similar to a watch case, for the ultimate collector, Timegraph offers a number of customisation options, including enamelling, gemsetting or miniature engraving, to name but a few. On request, the item can be fully customised for its owner by highly qualified master craftspeople.

By bringing together these two illustrious worlds, Caran d'Ache is positioning Timegraph firmly at the centre of its prestige collectors' editions.
December 19, 2019