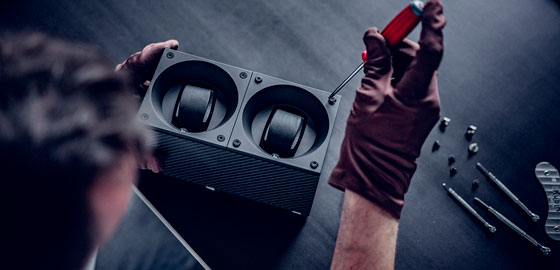 Headed by a new team since 2017, the Fribourg-based Maison welcomed us and offered us an opportunity to take a backstage look at its watch winders, from single cubes to multiple versions, as well as personalised iterations. SwissKubik's many customers thus have a wide range of options.
The product is intended for everyone, be they collectors or simply wearers of automatic watches and who wish to ensure they keep accurate time – whether simple three-hand models or more complicated ones with moon phases, chronographs or date displays. Operating in a fully independent manner, this must-have accessory keeps watches fully wound, based on a choreography that can be customised via a dedicated app. What could be easier?
A basically very simple idea
While the rotating watch box was created some 30 years ago in Italy, its Swiss version was launched in 2007 in Lausanne under the name of SwissKubik. This model is shaped like a small, sleek and attractive cube that is entirely autonomous, 100% Swiss made and equipped with state-of-the-art technology. Featuring a smart and user-friendly design, this watch winder consists of an anodised lightweight rigid aluminium movement and frame that can be interpreted in an infinite variety of coatings and colours.
New management
In 2017, after ten years in operation within the watch industry, the company welcomed a new owner in the person of Xavier Castelli, a watch enthusiast and President of Elix Holding SA. He is backed by three co-shareholders forming a cohesive team, of which each member handles a specific field.
100% Swiss made
With its own production site in the canton of Fribourg in Switzerland, SwissKubiK is the result of an inventive approach, which is constantly improved, using advanced technology and high-end finishes. SwissKubiK has control of all the manufacturing processes of its 100% Swiss made technology, the ultimate guarantee of quality for automatic watch enthusiasts and watch brands. Constantly seeking to improve and miniaturise its technology, the company now equips its winders with the sixth generation of rotation system (motor plus programming circuit). All models are covered by a three-year warranty.
Made-to-measure
The basic SwissKubiK collection comes in two sizes, the Masterbox (a 10cm cube) and the Startbox (a 12cm cube). While the Startbox comes alive with 6 colours, the Masterbox is made of an incredible number of materials, be it aluminium, leather, simple or precious woods, carbon or granite, with a very wide range of finishes and colours. In addition, SwissKubiK offers endless customisation possibilities (logo, photos, messages) thanks to the latest-generation UV printer, which was acquired in 2018. Imagination is the only limit.
High tech
The SwissKubiK watch winders are equipped with a movement and ultra-silent motor, which releases very little magnetic charge. This small movement with a new generation electronic circuit is full of technology. Equipped with two batteries, the consumption of this watch winder is extremely low and provides an exceptional autonomy of three years. Thanks to a revolution counting system, it is possible to programme the cube with Bluetooth or with a USB connection and to define the number of revolutions, the speed and the direction of rotation. After each rotation cycle, the watch is repositioned at 12 o'clock so that it is always in its original position.
Ecological awareness
In compliance with the 'Swiss made' quality label and in order to limit its carbon footprint, SwissKubiK has selected all its suppliers from within a radius of 50 kilometres around its Fribourg factory (Switzerland).
Positioning
When SwissKubik was bought up in 2017, it was producing some 7,000 to 8,000 units per year. Since the takeover, with growth of more than 20% per year, the company sells 15,000 watch winders via its website, as well as through more than 500 points of sale worldwide, including almost 400 in Europe and 50 in Switzerland. Retailers, watch brands, hotels, private orders, partnerships with other companies (such as Reuge): the market is considerable and there is great potential for growth.
Products
Startbox
Whether tangy, understated, pop-style or fun, the watch winders of the Startbox range play on colours and modern lines. Simplified to the extreme, these watch winders embody the quintessence of SwissKubiK know-how. Soft Touch coating gives the cube its incredible softness. Measuring 12x12x12cm, this range is available in six colours: orange, red, green, blue, blue, black and red with a Swiss cross.


Masterbox
Its noble decor imbued with understated elegance conceals a fully-programmable jewel of technology. A perfect blend of tradition and innovation, the Masterbox (10x10x10cm) comes in various materials – wood, aluminium or leather – with numerous finishes available (13 different colours of aluminium, multiple types of wood, numerous leather finishes and stitching). The Masterbox collection is also available in multiples. It is possible to create your own combination of up to 12 cubes with different materials and finishes.


Travelbox
With an innovative, sleek and surprising design for SwissKubiK, the Travelbox slips easily into your luggage. Its optimised size and weight make it a discreet travel companion. Made of leather or marine recycled polymer, the Travelbox comes in a wide choice of colours.

When closed, it perfectly protects the timepiece in a static space specially designed for this purpose. Once open, it displays its impressive pedigree. Simply move the watch, still positioned on its cushion, into the rotating part of the case to see the watch move. The rotation cycle is simply started by rotating the two blocks thanks to a new and hidden system.


Scatola del Tempo
The rotating watch winder was created in 1989 by Sandro Colarieti, an Italian watchmaker who was passionate about keeping his watches on time by simulating natural wrist movements. A great collector of Patek Philippe timepieces, he presented his invention to the Geneva-based company which, after a year of testing, ordered 500 units from him. Thanks to this collaboration, Scatola del Tempo quickly became known throughout the world. Since 2018, the Italian company has also been owned by Elix Holding SA.
November 28, 2019