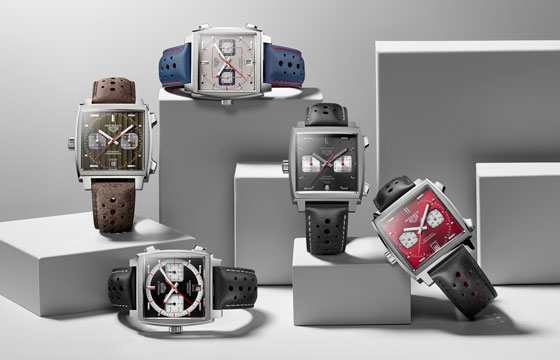 Following the four previous events celebrating the 50th anniversary of the iconic TAG Heuer Monaco throughout 2019, the Swiss luxury watchmaker rounded off the festivities with the presentation of the fifth and final special edition revealed at an immersive celebration in Shanghai's Space Plus.
Upon entering, guests were immediately immersed in the Monaco universe and discovered "timeboxes" – custom time capsules that transported them to the four decades represented by the Monaco anniversary pieces – in the reception area. Following an opening video introducing the Monaco collection and a spectacular show of light and shadow, brand Ambassadors Cara Delevingne and Li Yifeng unveiled the fifth limited-edition Monaco anniversary timepiece, which pays tribute to the second decade of the 21st century.

To honour the 50-year milestone, TAG Heuer has launched five new Monaco models that capture the design spirit of each decade since the launch of the original in 1969. The first of these models, inspired by the years 1969 to 1979, was unveiled at the Monaco Formula 1 Grand Prix in May, and the second limited edition, celebrating the period from 1979 to 1989, was presented in June in Le Mans, France. The third edition, inspired by the 1990s, made its grand debut in New York in July. The previous event for the fourth edition, honouring the sleek style of the early 2000s, received international acclaim after being introduced at an event in Tokyo in September. Sharp and uncomplicated, the limited-edition Monaco capturing the most recent decade of the timekeeping icon's half-century past – 2009 to 2019 – represents the straightforward style and sleek design of luxurious everyday objects.

When the Heuer Monaco (TAG was not part of the company name at the time) was introduced at simultaneous press conferences in New York and Geneva on March 3rd 1969, journalists and watch aficionados around the world were amazed. With its never-before-seen water-resistant square case, the Monaco's daring and iconic design made it instantly recognisable.

The watch's design was the perfect complement to the advanced technology being presented by the Swiss watchmaker at the time. Developed and commercialised by Heuer, Calibre 11 was the world's first automatic-winding chronograph movement.

CEO at the time Jack Heuer believed that this groundbreaking innovation required a design that would demand attention. The Monaco did exactly that. In 1971, the Monaco was worn by Steve McQueen, the "King of Cool", in the movie Le Mans.
November 28, 2019