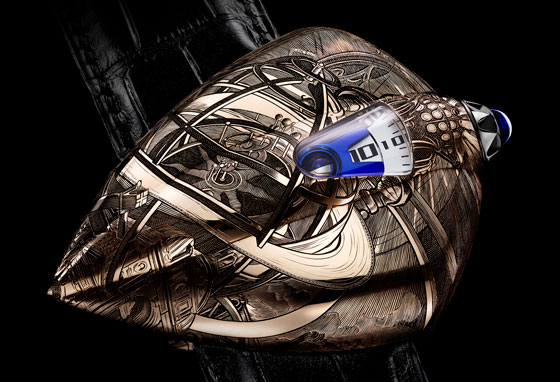 As part of the new temporary exhibition at the Maison d'Ailleurs in Yverdon, De Bethune presented a one-of-a-kind model, a true work of craftsmanship: the DW5 Armilia.
The exhibition titled "Monde (im)parfaits. Autour des Cités obscures de Schuiten et Peeters" (Imperfect worlds. The Obscure Cities of Schuiten and Peeters) inspired the watchmaker to create a fascinating model that it places as a landmark on the border between the worlds of art and watchmaking.

De Bethune has immersed itself in the fantastic world of the designer and scenographer François Schuiten, nicknamed the Watchmaker of Dreams, while engaging a dialogue with the enigmatic world of The Obscure Cities through the signature motif highlighted on the very structure of its DW5. The company was particularly interested in the comic strip The Road to Armilia and the inspiration for this particularly artistic piece came from a drawing by François Schuiten.

In creating the DW5 Armilia, Denis Flageollet called on a renowned engraver, Michèle Rothen, who performed this fantastic work. Resulting from extreme miniaturisation, the mechanism is entirely dedicated to design, of which time is only one element. A De Bethune interpretation serving as a nod or signature touch, a small two-coloured sphere indicates the moon phases. Composed of two assembled and polished blued steel and palladium half spheres, it guides the eye towards the digital and minimalist display of the hours and minutes. All this is visible through a hand-cut cabochon-shaped tempered glass providing a chance to get a better view of this mechanism that counts time, within a fantasy world that approaches it from an entirely different standpoint.

The DW5 Armilia is presented at the Maison d'Ailleurs, at the heart of the exhibition that inspired its creation, until October 25th 2020.
November 28, 2019