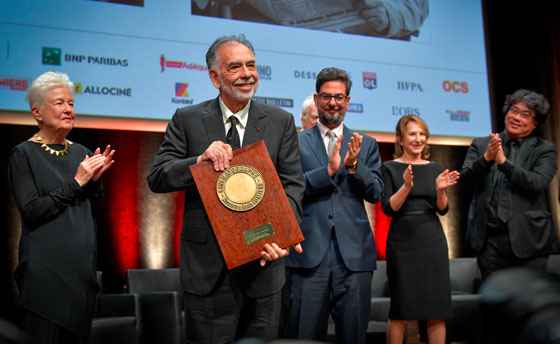 For the third consecutive year, Chopard supported the Festival Lumière, which took place in Lyon from October 12th to 20th. The watchmaker thereby further consolidates its support for the world of filmmaking.
Since 2009, the Prix Lumière has rewarded a film personality for his or her work as a whole and for the link he or she maintains with the history of cinema. It is celebrated in the birthplace of the Lumière "Cinematograph" (a motion picture film camera also serving as a film projector and printer), and at the very spot where it was invented, namely on the Rue du Premier-Film. This event, which attracts some 200,000 festivalgoers each year, was created by Thierry Frémaux, Director of the Institut Lumière de Lyon and Executive Director of the Cannes Film Festival.

Presented each October during the Lumière festival, in a ceremony attended by numerous artists and some 3,000 spectators in the main hall of the International City Congress Centre, the Prix Lumière is distinguished by the quality of its winners, as well as by its extensive media coverage. Despite its comparatively recent introduction, its international scope and prestigious list of recipients mean it is destined to become a kind of "Nobel Prize" in the world of cinema.

Clint Eastwood was the first to receive this award in 2009. He was followed by Milos Forman (Czechoslovakia), Gérard Depardieu (France), Ken Loach (United Kingdom), Quentin Tarantino (United States), Pedro Almodóvar (Spain), Martin Scorsese (United States), Catherine Deneuve (France), Wong Kar-wai (Hong Kong) and Jane Fonda (United States). In 2019, it was presented to Francis Ford Coppola, one of the greatest living legends in the history of cinema. A director, scriptwriter, producer, winegrower, restaurateur, entrepreneur and studio owner (American Zoetrope), Francis Ford Coppola is more than just a filmmaker. He appears as a worthy heir to a proud lineage of Hollywood emperors, while remaining faithful to his youthful ideal of constantly questioning the art of telling and producing stories.
November 07, 2019