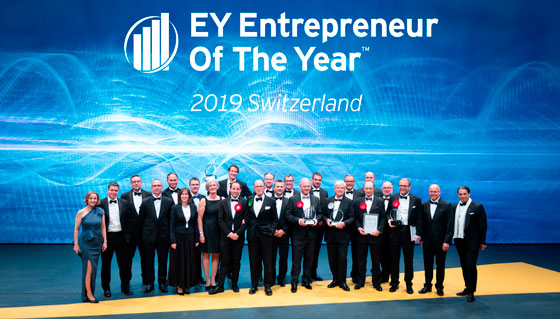 On October 25th 2019, in the Samsung Hall in Zurich, the jury of the "Entrepreneur Of The Year" 2019 competition, organised by Ernst & Young, presented awards in four categories to Swiss winners.
H. Moser & Cie, partner in this event for the eighth consecutive year, warmly congratulated these entrepreneurs for their endeavours and gave them a timepiece.

The 2019 winners are: Stefan & Christian Ganzoni, Sigvaris Holding AG (Winterthour), "Family Business" category; Ueli Jost, Veriset AG (Root), "Industry/High-Tech/Life Sciences" category; Fabio Ronga, beqom SA (Nyon), "Trade/Services" category; and Patrick Thévoz & Adrien Briod, Flyability SA (Paudex), "Emerging Entrepreneur" category.

H. Moser & Cie cultivates the entrepreneurial spirit in honour of the work of founder Heinrich Moser, who was a tireless entrepreneur. Innovation, creativity and quality are all core characteristics cherished by the watch Maison.
November 07, 2019