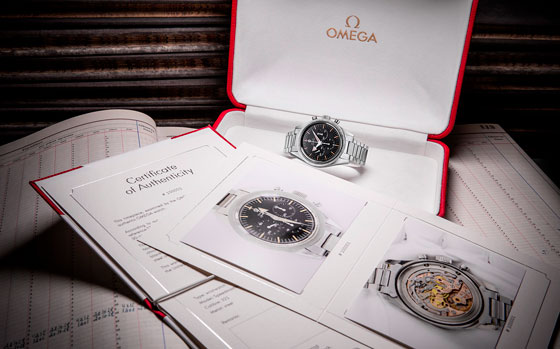 The Swiss watchmaker is now providing an official Certificate of Authenticity for its vintage timepieces.
This new initiative is a first step by Omega toward better transparency in the vintage market, and will provide definitive validation from the company's experts in Switzerland.
The Certificate of Authenticity will be given to an "authentic" Omega timepiece that is over 30 years old. To gain the certification, owners can either present their vintage timepiece directly at the brand's HQ in Switzerland, or to a participating Omega Boutique in their country. At a cost of 800 Swiss francs, the watch will then be sent to the Omega Heritage Team, who have access to extensive historical production records and servicing policies. During their examination process, they will inspect the current state of the timepiece and then decide if it qualifies for a Certificate of Authenticity.

The new certificate differs from the "Extract from the Archives", which is also available to customers. While the latter provides a customer with information about when their watch was produced, the Certificate of Authenticity provides extended information about the authenticity of the watch in its current condition at the time of the certification expertise.

The global list of boutiques around the world currently comprises 12 addresses, which will soon be expanded.
October 31, 2019