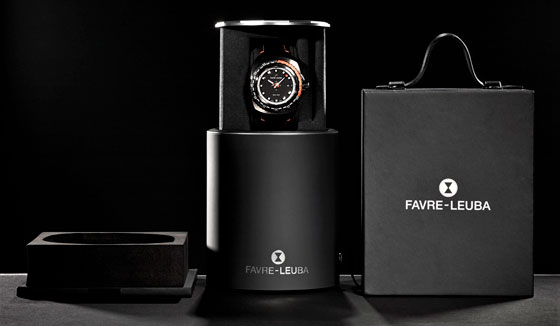 Favre-Leuba and WISeKey International Holding Ltd, a cybersecurity IoT platform company, have partnered in implementing the WISeAuthentic Blockchain edition to authenticate and protect the brand's watches and their owners.
Purchasing an exclusive Swiss watch is always a matter of great pride and joy, but this purchase comes with the concern that the timepiece may be stolen or that it may not be an original. While most high-end watch brands find it extremely difficult to stop such acts, Favre-Leuba has taken steps to protect its watches. Reliable methods include the use of cutting-edge software and of blockchain technology which, in conjunction with on-the-ground measures, can ensure the authenticity of the watch. If stolen, the watch can be traced and is thus difficult to trade on the secondary market. Such checks can be performed because the identity of each watch is stored on an immutable database in the implemented system.

At Favre-Leuba, concern for the welfare of watches continues after they leave the manufacturing facility. Upon activation of a warranty, the legitimate ownership of the watch is registered in the company's highly secure SAP database and is supported by WISeAuthentic blockchain technology. In other words, owners of a new timepiece become digital members of an exclusive club and their registered watch is protected 24/7 by the fraud prevention unit.

Each Favre-Leuba timepiece has a unique serial number etched on the watch. Whenever a new watch is purchased, the retailer must activate the warranty. Each is accompanied with a warranty card bearing a number and an electronic identity that is generated by the WISeAuthentic blockchain platform and engraved into a WISeKey Secure Radio-Frequency Identification (RFID) hardware chip.

When the serial number of the watch is paired with the unique warranty number, the watch is then considered active for the applicable 5-year warranty period. Only authorised distributors can activate the warranty via a highly-secured, encrypted software system.

WISeKey has long been recognised as a leader in providing luxury and other product manufacturers with reliable means to protect brands against counterfeiting. Combining blockchain technology with secured NFC chips WISeAuthentic PKI platform further leverages this unified means of shielding brands from the harmful effects of counterfeit products, while enhancing transparency for end consumers and the entire ecosystem.
October 31, 2019