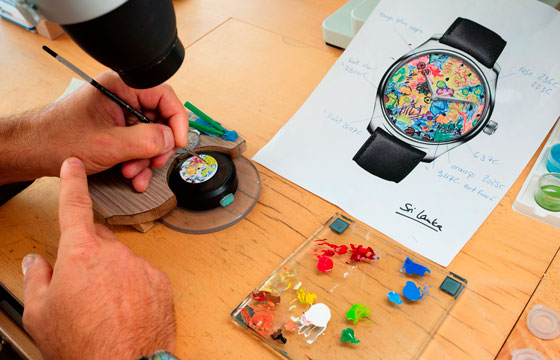 In order to strengthen its partnership with Room to Read, the watchmaker has unveiled two unique special pieces: with the help of the charitable organisation, the Manufacture asked two classes of children in India and Sri Lanka to give free rein to their imagination in creating a drawing.
The two illustrations that stood out were done by Arif and Kasun, two schoolchildren living in Mumbai and Sri Lanka respectively. They appealed both by the beauty of the colours chosen and by the style of the motifs. Both were delighted and proud that their design was chosen for the dials of the two timepieces created to help underprivileged children.

An artist then set about reproducing the works as faithfully as possible. Equipped with small brushes, this craftsman poured all his heart and expertise into this task in order to respect the shimmering colours and patterns as closely as possible. In the end, this implied devoting two days of work to Kasun's dial and three days to the one designed by Arif.

These two unique pieces, housed in an Endeavour Centre Seconds Automatic, will be auctioned on behalf of the charity. They were unveiled at the first gala dinner organised by the two partners in London on October 3rd. In the same vein, a second evening will also be organised in Zurich on November 9th.

Room to Read is a global organisation that has helped more than 16.8 million children in 16 countries across more than 37,000 communities. It considers education as a key to change, a real lever which, by uniting all the forces involved, will lift the world, serve to create a greater sense of responsibility and change behaviours, thereby enabling us to envisage a better future for our planet and future generations.
October 17, 2019