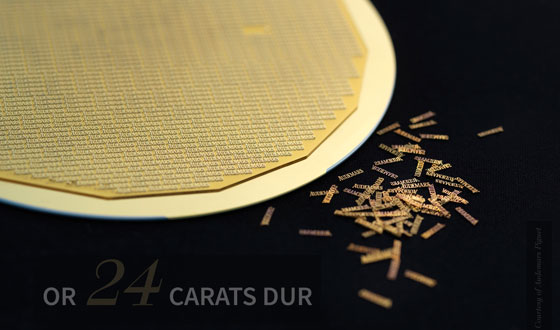 In a constant drive for innovation and the acquisition of new knowledge, Mimotec continues to develop in all areas related to microfabrication.
The company has thus launched a new material, extremely hard 24K electroformed gold. Harder than brass (220HV), this new gold can also be used for components with mechanical functions. With a purity of 99.96%, it is a noble material that is lead-free and therefore compatible with REACH standards. It is also valuable in economic terms, since the components obtained by material growth do not produce any waste and the customer only pays for the gold delivered.

Ideally, applications are dedicated to watch exterior components, appliques, lettering, hands, as well as functional components such as gear wheels, balance-wheel inertia blocks, chatons with integrated jewels, etc. This material opens up new markets, such as microelectronics, both in Switzerland and abroad.
October 17, 2019