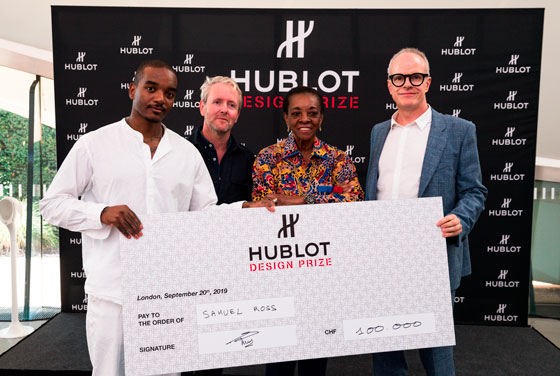 Samuel Ross, Ronan Bouroullec, Marva Griffin Wilshire and Hans-Ulrich Obrist
A loyal follower of the art world, the watchmaker celebrated the fifth edition of the Hublot Design Prize in London. This year's distinction was awarded to Samuel Ross' work, while the Pierre Keller Award distingiushed Marion Pinaffo and Raphaël Pluvinage.
Samuel was chosen for his incredible energy, the remarkable collaborative approach to his work combining object design, social design and garment design, as well as his ability to use them as mediums of connectivity. Through his practice as a fashion designer in streetwear and industrial design, Samuel continues to reach an ever broader audience with his innovative work. For the Pierre Keller Award, the jury was incredibly touched by the extraordinary book produced by Marion Pinaffo and Raphaël Pluvinage.

Independent judges Marva Griffin Wilshire, Ronan Bouroullec and Hans Ulrich Obrist, all three experts from the world of contemporary design, each submitted five candidates. A total of 20 applications were selected, including five proposed by Pierre Keller (who passed away this year and had served as fourth jury member and president of the prize), and six finalists were selected to present their creations.
October 10, 2019