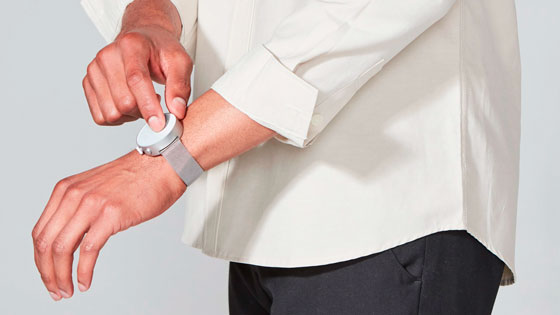 The Lausanne-based company "Importe Le" is launching the sale of a new type of watch.
Serving to read the time in an innovative way, the Dot Watch is a smart model which, when connected to a dedicated app, displays the data in Braille. The information is thus "visible" by touch only.
Discovering time becomes truly fascinating. This creation gives direct access to practical functions such as the time to the nearest second, the date, as well as an alarm clock, a timer or a stopwatch.

When a call is displayed on the smartphone, the Dot Watch vibrates and reveals the name of the caller, leaving the user free to choose whether or not to answer. Each notification is instantly transmitted after it has been translated into Braille. Intuitive touch controls on the front panel and customisable automatic scrolling enable one to read messages quickly and comfortably.

This timepiece is not only useful but also elegant. Its timeless round shape and minimalist silver Milanese mesh bracelet make it a stylish accessory that complements any outfit. Made of particularly lightweight aluminium, it is nevertheless extremely robust. Its Braille cells are powered by a patented actuator technology based exclusively on magnetism. This system reduces energy consumption to a strict minimum, as the battery has a power reserve of up to 10 days.
September 26, 2019