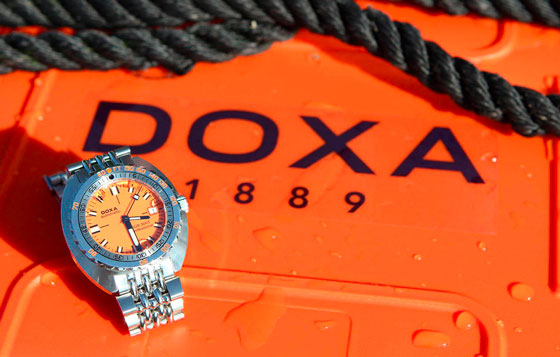 Encouraged by the excellent response from the markets, customers and media at this year's Baselworld, the management at Doxa Watches pursuing the brand's international deployment.
Based in Biel/Bienne, the brand is a 100% subsidiary of Walca Group, an industrial company owned for more than 40 years by the Jenny family. Walca Group specialises in the development and manufacture of private label Swiss made watches.

Heading the leadership at Doxa Watches is Romeo F. Jenny, who represents the fourth generation of the Swiss family that owns the group and has entrusted the Doxa brand's realignment and management to Jan Edöcs, Board Member of Walca Group and CEO of Doxa Watches.

As part of the first stage of the relaunch, all Doxa brand activities are now fully managed from Switzerland, which will enable a more streamlined, consistent and rapid reorganisation process.

With regard to distribution, all markets, without exception, will operate and grow under the direct responsibility of the General Management in Switzerland, which will ensure consistency and cohesiveness across all activities. The brand's presence in the United States, historically a key market, will be significantly reinforced with the opening of a North American (Canada and USA) subsidiary in Boca Raton (Florida), and the recruitment of a team entirely dedicated to the brand.

Building on the redeployment in North America market, Doxa Watches will consolidate the English-speaking market universe by opening two new distributorships: in the UK and Australia. These two partners are intimately familiar with the brand and have a strong marketing presence in their respective territories which are promising for the brand's legendary Sub collections.

Elsewhere in the world, the brand is established in Hong Kong and China, as well as in Central Europe, Poland, Romania, Bulgaria and Hungary, and its strong presence in these markets will enable Doxa to further capitalise on its achievements to date.

Doxa Watches also plans to reinforce its position with a dedicated organisation in Germany to facilitate direct access to European customers. The Swiss domestic market will naturally also benefit from a strengthened distribution structure.

The massive success of the new products launched this spring has accelerated a major overhaul in recent months: streamlining the collections, reducing the number of references, delving deeper into the brand's DNA and focusing on the legendary Sub concept.

In terms of marketing, a new international identity is emerging, ensuring a uniform image worldwide: a new logo, new communication campaign, new website as well as enhanced social media presence.
September 05, 2019