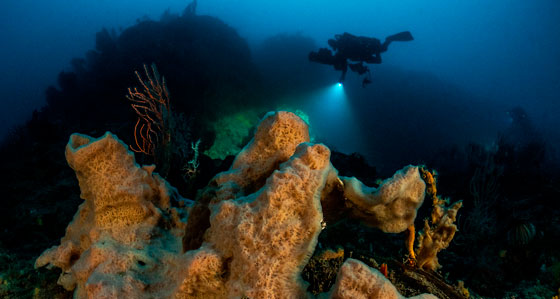 Faithful to the marine world, Blancpain was at Laurent Ballesta's side during the fifth Gombessa expedition.
This exploration mission took place throughout July off the French coast in the Mediterranean. Its objective was to reveal the still well-kept secrets of this sea that remains full of mysteries.

Each Gombessa expedition is characterised by a scientific mystery, a diving challenge and the promise of unprecedented images. In order to allow the time required to perform a whole series of scientific protocols commissioned by research centers and to illustrate these deep ecosystems, the Gombessa team has developed a world first: the combination of saturation diving with scuba diving using closed circuit rebreathers. Associating these two techniques makes it possible for the first time ever to avoid any need for decompression during the expedition and to concentrate this phase into a single four-day session at the end of the mission. Laurent Ballesta and his three companions will thus be able to perform explorations lasting up to eight hours a day in order to achieve their ambitious objectives.

As with previous expeditions, Gombessa V will be the subject of a long-format documentary film, an exhibition and a book that will reveal in 2020 the discoveries made by the team of adventurers.
August 29, 2019