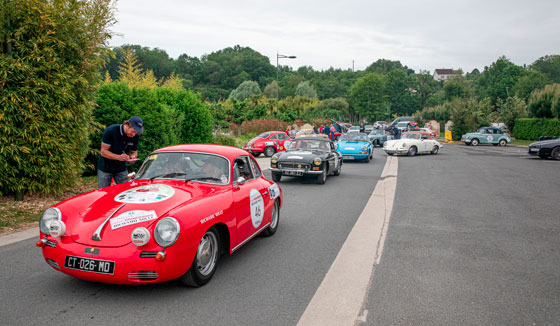 The Rallye des Princesses Richard Mille departed on 1 June for five days of blacktop adventure that wound through all the splendours of the French countryside. A full 1,700 kilometres of pure pleasure for an exceptional event that has become a not-to-be missed gathering of Ladies' motor racing.
The sun had barely risen behind the famous column gracing the Place Vendôme as the 91 crews prepared to embark on a first stage of 303 kilometres with no less than highly technical 14 regularity zones on their way to Beauval. The sun shone brightly, as did Aurora Straus, the young American driver and partner of the brand, who slid behind the wheel of the N°1 car, a red Porsche 356, one of eight Porsches sporting Richard Mille's livery and dedicated to special guests.

Sun, north winds and rain accompanied the princesses throughout their varied and high-perched route, with crews driving at an altitude of more than 1,000 metres, crossing several passes, including the Grand Colombier pass at 1,501 metres, the highest point of this twentieth edition.

In the end, the stopwatch played traffic cop in Saint-Tropez, breaking the tie. The result? A fifth victory for Carole Gratzmuller and a third for her co-driver, Elisa Noémie Laurent, aboard a Chevrolet Corvette Stingray bearing number 56. A triumphal ovation awaited the 200 Princesses as the last mechanical roars were heard.
June 20, 2019