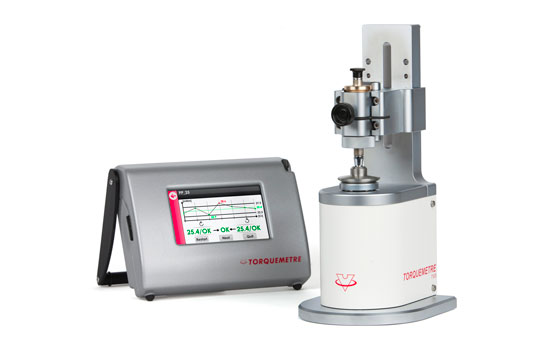 With its in-depth experience acknowledged in the field of torque measurement, VOH applies its expertise to the management and monitoring of torque screwdrivers in the watchmaking industry.
The new device offered by the company, the TVD Torquemeter, fulfils every requirement and all the criteria necessary for the control, adjustment and monitoring of torque screwdrivers in an industrial environment. The motorised measuring principle and mechanical design are derived from the well-known Torquemeter range. The TVD version is a specific evolution of this version, in which the difference lies in its electronic control unit dedicated to functionality.

Rotation is motorised in order to guarantee repeatable and independent measurement of the human factor. Thus, the electronically regulated speed of the screwdriver "clicks" is 100% repeatable. Both the screwdriver control parameters and the OK/KO acceptance criteria are programmable. These control functions are complemented by an "adjustment & running-in" function to correct any deviation of the screwdrivers during inspection.

In addition to the control functions, VOH has developed a complete screwdriver traceability strategy which includes the ability to import/export the database of screwdrivers under inspection.

To complement these innovative features, a Data Matrix scanner and ID code engraving on screwdrivers are optionally available.

With the new TVD Torquemeter, the investment made by manufacturers and subcontractors in the commissioning of torque screwdrivers is sustainable and provides the safety required when taking control of screwing processes.

Discover this new device on the VOH stand at P25 during the next EPHJ-EPMT-SMT exhibition.
June 13, 2019