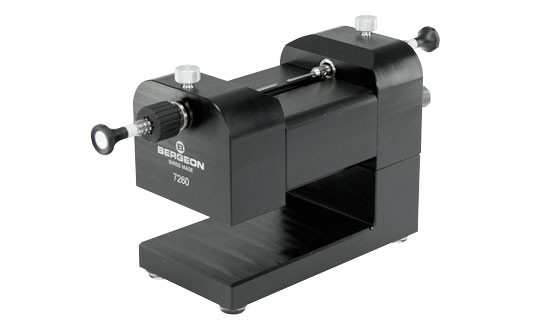 Developed with the aim of ensuring simple and accurate assembly and disassembly, the new Bergeon 7260 device serves to remove the (double) screws on both the bracelet and the case.
Made of Delrin, a polymer that protects against micro scratches, this device is particularly suitable for all bracelets and case middles made of noble materials such as gold, platinum or silver.

Equipped with a height-adjustable table, it easily adapts to all case middle heights and bracelet thicknesses. The device is equipped with two ribbed profile screwdrivers that can be locked with a knurled head screw. These screwdrivers can be equipped with Bergeon 7965 torque cartridges. The apparatus can then be used to screw in at a specific tightening torque.

A wide passage beneath the adjustable table enables the mounting/disassembly of bracelets with folding clasps. It can be easily used by both right-handed and left-handed people. Easy to use, it can be fitted on all workstations requiring the size-adjustment of screw-in bracelets and more particularly in stores.
June 13, 2019