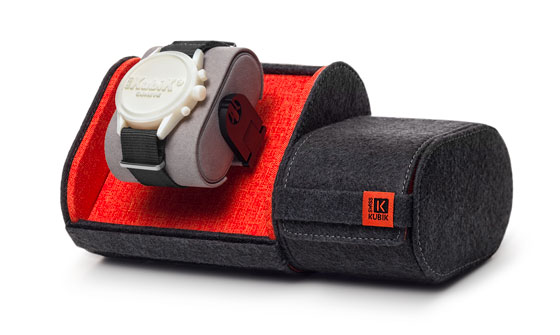 Known for many years for its cubic watch winders with Swiss made technology and its sense of innovation, SwissKubiK has created a unique object for lovers of automatic watches and travel enthusiasts.
The brand has been working for more than two years with its Research and Development department to create the first rotating travel case, the Travelbox.

With its innovative, refined and, surprisingly for SwissKubiK, rounded design, the Travelbox fit easily into luggage. Its optimised dimensions and weight make it a discreet travel companion. Made of leather or recycled marine polymer, it offers a wide choice of colours and even plays the personalisation card. Initials, a message or a thought can be engraved on this case.

When closed, it perfectly protects the timepiece in a static space specially designed for this purpose. Once open, it displays its impressive pedigree. Simply move the watch, still positioned on its cushion, into the rotating part of the case to see the watch move. The rotation cycle is simply started by rotating the two blocks thanks to a new and hidden system.

Discreet on the outside, the Travelbox opens to reveal a small programmable, ultra-quiet and energy-efficient motor. It has a one-year autonomy thanks to its rechargeable battery while being able to operate on mains power as well. Fully programmable thanks to a dedicated Bluetooth application or a USB socket, the Travelbox combines the best of SwissKubiK technology, 100% Swiss made.

Every detail has been designed to make this object unique and to facilitate travel with precious timepieces. Last but not least, the Travelbox has been designed to fit into any safe, thus providing additional security for the timepiece.
June 06, 2019