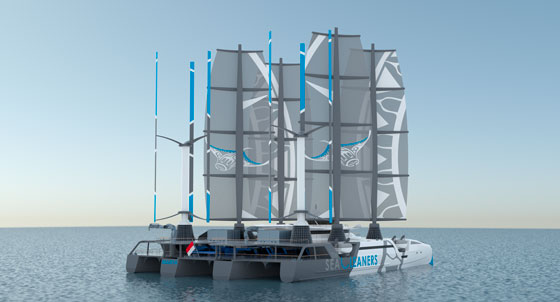 Concerned about preserving the health of the oceans, François Aubry is actively supporting Yvan Bourgnon and unveiling the "La Planète Bleue" timepiece. Since April 29th, this model has been the subject of a dedicated campaign on the Kickstarter crowdfunding site.
With his organisation "The SeaCleaners" founded in 2016, the Franco-Swiss sportsman is tackling a major obstacle: ocean pollution. Its flagship project, entitled "Manta", has unveiled plans for the first plastic waste-collection boat. It aims not only to build an autonomous vessel capable of cleaning the oceans, but also to raise public awareness.

Yvan Bourgnon is undoubtedly one of the greatest maritime adventurers of his generation. He regularly takes on extreme challenges such as the solo Northwest Passage aboard a sports catamaran. He is currently preparing to attempt a new feat on a multihull: a solo round-the-world race against prevailing winds. This challenge, considered very dangerous, is reserved for the most experienced skippers on the planet.
May 16, 2019