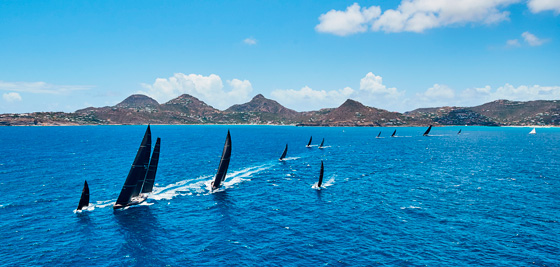 The watchmaker closely followed the tenth edition of Les Voiles de Saint-Barth Richard Mille.
With 1,200 sailors and 63 racing boats, this nautical event represents a subtle combination of sporting performance and innovation. This year the competition was won by the Sorcha sailboat of Peter Harrison – CEO Richard Mille EMEA.

Remarkable sailing craft, a magnificently diverse fleet, top-flight crews and exciting routes; that pretty much sums up the event, organised by François Tolède and Luc Poupon. Ideal weather conditions throughout the week ensured a breath-taking spectacle. On Saturday April 20th, the last day of competition following four days of regattas, the crews battled for victory in a stage of 24 – 29 nautical miles, with winds that varied between 16 and 18 knots. A loyal participant since 2013, Peter Harrison traded his C-suite suit for sailor's garb aboard his Maxi 72, Sorcha, one of the most technically advanced monohulls on the planet. Harrison shared helmsman duties on this 16-tonne carbon fibre behemoth with Pierre Casiraghi, Richard Mille partner and patron of this year's edition of Les Voiles.

This 2019 edition was also marked by an eco-friendly spirit. In particular, organisers had committed themselves to working towards zero plastic on the race village. Even though the competition itself was naturally at the heart of the event, raising public awareness of the need to preserve seabeds is now a very real part of its DNA.
May 09, 2019