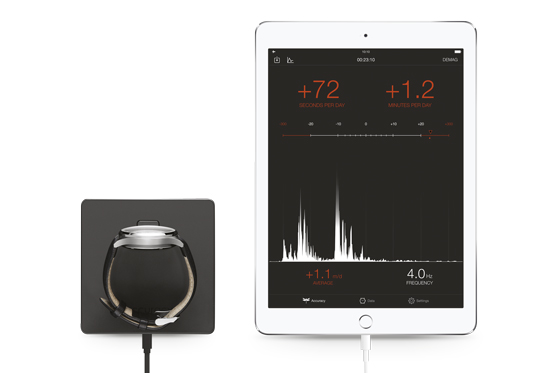 On the occasion of Baselworld 2019, H2i – acquired by Petitpierre SA in 2017, another company belonging to the Acrotec group – presented its Oneof Accuracy boutique edition, a major innovation for the measurement and demagnetisation of mechanical watches directly in stores.
To date, more than 500 points of sale of major Swiss watch brands have been equipped with it.
This system is the only integrated tool capable of controlling the accuracy of a mechanical timepiece and demagnetising it if necessary. Simply connected to a smartphone or tablet, it can correct a magnetisation issue in less than two minutes. The seamless and intuitive app developed by H2i does not require any particular technical knowledge and can be used directly by the staff in the store.

The sensor is equipped with a piezoelectric microphone that is highly sensitive to the vibrations of the regulating organ, the "tick-tock " of the watch. The app's algorithms process this acoustic signal in real time and extract various information, including chronometric accuracy. If the latter is not acceptable, a simple press on the "Demag" function of the application generates a brief but powerful electromagnetic pulse that demagnetises the watch's balance-spring and instantly restores its accuracy.

Entirely designed and developed by H2i, the electronic system that manages demagnetisation is unique and stands out from existing products in terms of their ingenuity. It is powered exclusively by a USB cable directly connected to the smartphone or tablet and thus ensures great mobility for the product, especially when the diagnosis is made with the customer in the store.

The app is an extremely important part of the product because it endows it with a combination of interactivity, functionality and seamless flow. It automatically detects the presence of a watch placed on the sensor, calculates and displays its accuracy, handles the demagnetisation process and incorporates a database for saving and sharing results.
April 11, 2019