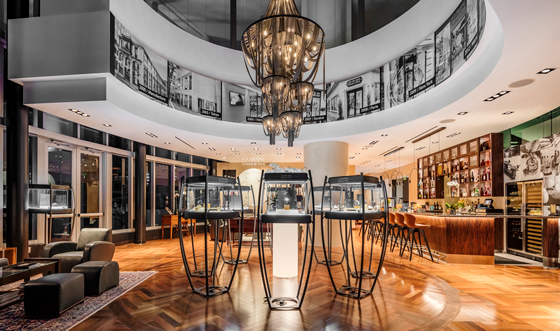 On March 15th, F.P. Journe celebrated the opening of its first Maison the EPIC Hotel, located along the Miami River in the heart of Downtown Miami.
It is destined to become a favourite spot for collectors to share their love of fine watchmaking, to chat with other enthusiasts or simply to sip a coffee or a glass of champagne.

Via the lobby of the EPIC hotel, guests enter a two-storey glass atrium with breathtaking views of the river and the city. A circle of aerial showcases, featuring the F.P. Journe precision chronometers, stands in the centre of the space they share with Bar Journe.

A terrace with an outdoor lounge, designed by Spanish yacht builder Astilleros Astondoa, provides an opportunity to enjoy cigars in the open air. The second floor houses the headquarters of Montres Journe America and the repair centre.

F.P. Journe is introducing a new concept of theme evenings and will be organising numerous events highlighting the parallels between the philosophy underpinning fine watchmaking and spirits, automobiles, bespoke suits, Petrossian caviar, Astondoa yacht, to name just a few. Bar Journe symbolises refinement through a carefully curated selection of rare and vintage spirits wines, beers, coffees and teas ensuring a rich beverage experience.

At the heart of this Maison, F.P. Journe offers a new level of customer experience. The art of entertaining is elegantly expressed through a bespoke sense of welcome and visitors can expect high-quality service and seasoned expertise.
April 11, 2019