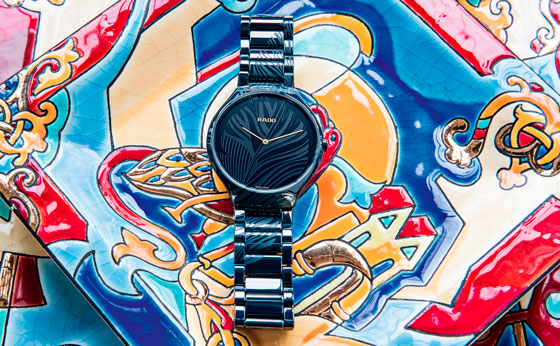 Continuing its collaboration with renowned designers, Rado has partnered with Russian artist Evgenia Miro, who draws inspiration from age-old emblems and designs to create beautiful designs that she applies to various materials. This association has given rise to the True Thinline My Bird Limited Edition.
From decorated silks or delicate porcelain, Evgenia Miro has switched to a micron scale by working with high-tech ceramics to co-create this timepiece with the watchmaker.

The True Thinline's one-piece case and ceramic bracelet feature laser engravings with a dainty and distinctive feather pattern. Based on Evgenia Miro's unique concept, bird feathers create a new philosophy of time through their lightness and the dynamic rhythm of their slender lines. The intense blue colour enables the model to exude a sense of wisdom, nobility and spirituality, while the pink gold hands and logo strike a pleasing contrast.

The reverse side of the watch is graced with a bird, which Evgenia Miro regards as a symbol of tenderness, wisdom and freedom for Evgenia Miro. Its red and gold plumage represents warmth and light. The featured creature is digitally printed on the back of the sapphire crystal case, a first for Rado.
April 04, 2019