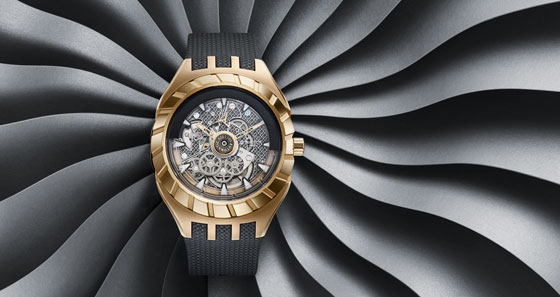 On February 14th, Swatch invited the international press to the heart of its new headquarters in Biel/Bienne to reveal its brand-new Flymagic line with a highly innovative Nivachron hairspring.
Nick Hayek, CEO of the Swatch Group, Carlo Giordanetti, Creative Director at Swatch and Thierry Conus (ETA), presented this new product in detail.

Made from a newly developed titanium-based alloy with exceptional paramagnetic properties, Nivachron is integrated into the Sistem51 movement. Endowed with the same properties as silicon, it reduces the harmful influence of magnetic fields by up to 20 times. In addition, this Swiss made component is highly resistant to temperature variations and offers excellent shock resistance, thus contributing to a significant improvement in the watch's chronometric performance. For this limited launch edition, the Sistem51 movement has been reversed. As a result, the new balance spring, the finely finished modules and skeletonised gear train all appear on the watch dial, while the transparent rotor of the automatic movement rotates around the rim. This represents a major innovation for the watchmaker, which has achieved such an inversion of the calibre for the first time. Creating an intriguing animation, this reversal means that the seconds hand runs backwards, while the hour and minute hands, controlled by an inversion mechanism, follow the usual time curve. Today, there is an ever-increasing number of magnetic fields in everyday life (handbag clasps, hairdryers, electronic devices, etc.) which are responsible for 30% of returns to after-sales service where timepieces must be demagnetised. Nivachron is therefore an appropriate solution to reduce these nuisances. This revolutionary balance spring will also be introduced in other companies.

Featuring a 45 mm stainless steel case, which is PVD-treated for one of the three models, the movement is generously sized and measures 5.8mm thick. Each watch comes with a rubber strap and two leather straps. For its launch, the Flymagic is available in three versions, each limited to 500 units. From September, a current collection will be launched on the market.

While the guests of the day were impressed by the launch of the Flymagic, they were also struck by the architecture of Swatch's new headquarters. Just as original as the brand itself, the premises take the form of a dragon. Designed by Japanese architect Shigeru Ban, who also built the new Omega building nearby, this structure looks like a three-storey wooden interlacing structure with various workspaces that are particularly well-lit thanks to numerous diamond-shaped openings. This extraordinary building spans a bridge and is twinned with the new Cité du Temps, which will soon house the Omega and Swatch museums.
March 07, 2019