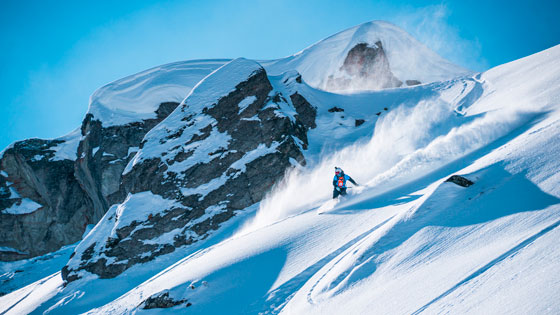 The 4-star-rated Nendaz Freeride is one of the five biggest freeride meetings in the world and, without question, the most famous of the Freeride World Qualifiers, (FWQ).
On the occasion of the 13th edition – March 8th-20th 2019 –, Anonimo joins this great festival in the heart of the Swiss mountains.

Some of the biggest names from the international freeride scene will be at the launch of the Nendaz Freeride featuring both the qualification rounds and the finals of this sporting event on of March 16th and 17th 2019.

On skis or snowboards, the world's finest male and female athletes will compete on a mountain face that is both visually impressive and highly technical. With back flips, 360s and other figures, the runs will without doubt be breathtaking, and the jumps mind-blowing, putting on an amazing show.

This festival of sport – combining conviviality with a blend of sporting and artistic performance while bringing together different generations – will be an opportunity for the public to discover the most recent Militare, Nautilo and Epurato collections, Swiss watches flaunting a blend of robustness and elegance in tribute to their Italian roots.
March 07, 2019