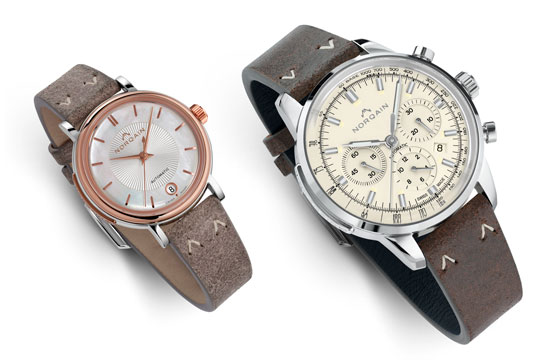 Norqain, a Swiss family watchmaking company, is a fully independent brand based in Nidau (Biel/Bienne). The company is managed by its founder and CEO, Ben Küffer, for whom Swiss watches are a longstanding family tradition.
Norqain has been established on solid foundations of know-how, experience and passion. Ben Küffer is particularly proud of the fact that key positions within the company are optimally filled. Chairman of the Board of Directors, his father, Marc Küffer, has more than 45 years' experience in the manufacture of Swiss luxury watches and was a member of the Council of the Federation of the Swiss Watch Industry for 25 years. Ted Schneider, son of Theodore Schneider, former owner of Breitling, with whom Ben Küffer has always worked closely during his 11-year career in the watch industry, has also joined the brand's board of directors. Then, as a member of the management and board of directors, Mark Streit, Swiss ice hockey legend and Stanley Cup winner, once again underlines the link with Swiss values.

On the market since last January, the company's first three collections – Adventure Sport, Freedom 60 and Independence – are aimed at both men and women. By the end of 2019, the brand will be available in more than 50 specialised outlets worldwide and will also present an interesting e-commerce strategy in which all sales will be managed and finalised jointly with the official retail network.
February 07, 2019