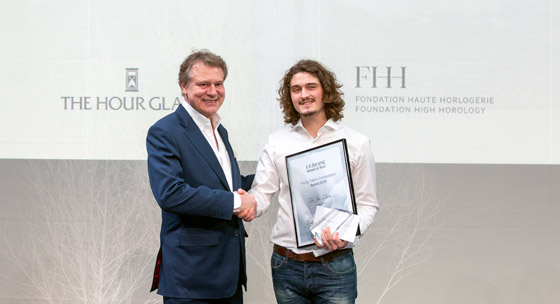 François-Paul Journe and Tyler John Davies
Since 2015, the "Young Talent Competition" has been an opportunity to discover particularly talented watchmaking apprentices.
Jointly organised by F.P. Journe, the Fondation de la Haute Horlogerie and The Hour Glass Singapore, ambassador of luxury watchmaking for the Asia Pacific region, this competition aims to support and transmit the art of Fine Watchmaking and craftsmanship.

Tyler John Davies, a graduate of the School of Jewellery at the University of Birmingham and winner of this 2019 edition, was honoured for his creation. More than just a timepiece, this mechanical clock is equipped with a visible escapement and a complication. 90% of its components have been made from raw materials, using both traditional and modern techniques as required.

The jury of the Young Talent Competition 2019 was composed of key personalities from the international horological scene: Philippe Dufour, Giulio Papi, Andreas Strehler, Marc Jenni, Pascal Ravessoud, Michael Tay, Elizabeth Doerr and François-Paul Journe. Their selection criteria were based on technical achievement, the search for complexity in their realization, their sense of design and aesthetics.
January 31, 2019