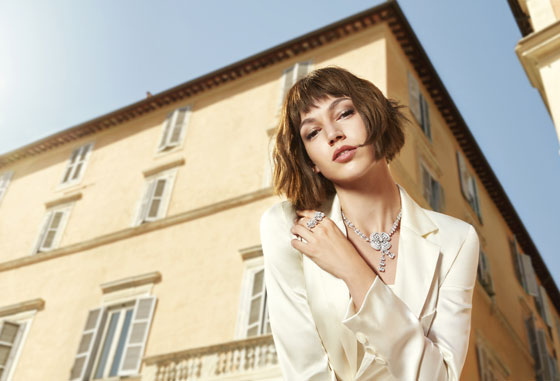 A whimsical marriage of the Italian word for flower, fiore, and the English word forever, Fiorever establishes the flower as an official symbol of the magnificent Roman jeweller.
An exaltation of natural beauty in daily living, the flower is a classic jewellery motif, one the Italian Maison has interpreted with unrivalled craftsmanship and bold creativity since 1920. Now Bvlgari immortalises the four-petal flower, an emblem of the Roman passion for life, in an enchanting diamond creation.
The collection's signature is a wild bloom with four petals, plucked from Rome's heritage. The gracious motif decorates many of the vestiges of the Roman Empire: the garden frescos of Villa di Livia, the sculptures of Palazzo Massimo, and the ceiling mosaics of the Santa Costanza Mausoleum, to name just a few. Exclusively crafted with bold lines and everlasting diamonds, the new icon is a scintillating celebration of The Eternal City's timeless beauty, sparkling joy and the irreverent Fiorever woman.
In the new Bvlgari campaign shot by acclaimed photographer Mario Sorrenti, the Fiorever woman is interpreted by Spanish actress Úrsula Corberó. The Barcelona native is a breakout celebrity on the international scene, thanks to her stellar performance in the hit Netflix series La Casa de Papel, known in English as Money Heist.
December 20, 2018