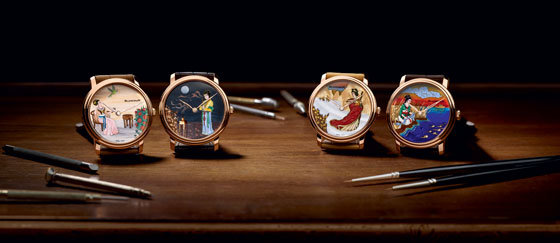 Blancpain is celebrating excellence and creativity through a unique series of four Métiers d'Art watches inspired by the supremely rich culture and history of the Middle Empire.
Themed in tribute to the great beauties of ancient China, these models testify to the scope of the manual decorative techniques implemented by the brand.
The four great beauties from Chinese antiquity, regarded as the most stunning women of their era, date respectively from the Spring and Autumn (722-481 BC), Three Kingdoms (220-280 AD), Western Han dynasty (206 BC-9 AD) and Tang dynasty (618-907 AD) periods. Above and beyond their sublime appearance, which was enough to amaze even nature, the four Chinese beauties forged a reputation through the influence they had on the rulers of their time, and, as a result, the history of China. Legend has it that three of them caused their kingdoms to weaken and all came to a mysterious end.
Blancpain has decided to interpret the tale of these emblematic figures from ancient China on a set of dials, using all the artistic techniques expertly practiced in its Métiers d'Art workshops. It is in Le Brassus that the artisans perpetuate ancestral skills transmitted from generation to generation. Be it champlevé enamel, engraving, shakudo¯, marquetry or enamel painting, each artistic craft is promoted on one piece of this special series, while all four watches are graced with a painted enamel beauty.
The pieces in the unique series in tribute to the great beauties of ancient China feature a 42mm red gold case, the ideal diameter for a decorated dial. These exquisite works of art are driven by Caliber 13R3A, a hand-wound movement reputed for its eight-day power reserve. Visible beneath a sapphire crystal case-back, it displays finishes just as meticulous as the dial decoration, such as a Côtes de Genève motif and hand-filed chamfering used to perfect the bridges.
December 20, 2018