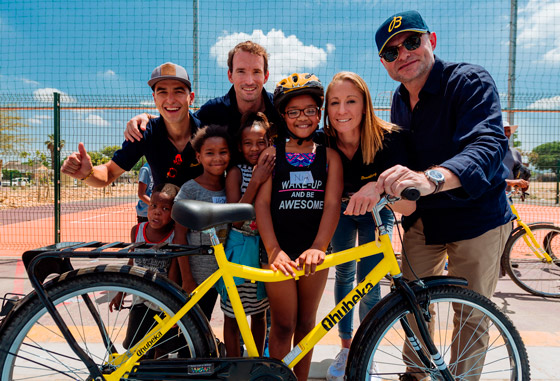 Made up of three world-class athletes with an impressive track record, the Breitling Triathlon Squad participated in a special mission. Jan Frodeno, Chris MacCormack and Daniela Ryf took part in the gruelling Coronation Double Century cycling race in Swellendam, South Africa.
Along with a team that included Georges Kern, CEO of Breitling, Nino Schurter, world champion mountain biker, Ronnie Schildknecht, Ironman champion and sportsman Vincenzo Nibali, they rode their bikes in support of a good cause.

The team was riding for Qhubeka, a South African charity that enables people to travel by bike so as to improve access to schools, medical centres and workplaces. The organisation programmes learning modules for schoolchildren to empower them in the long term, as well as training for adults who want to find work. The funds raised through this partnership will allow the entity to distribute 500 bicycles to the communities that need them most.

The day after the race, the Breitling Triathlon Squad and its other teammates visited a site where Qhubeka works. They were thus able to gain a personal insight into the work carried out by the institution.
December 06, 2018