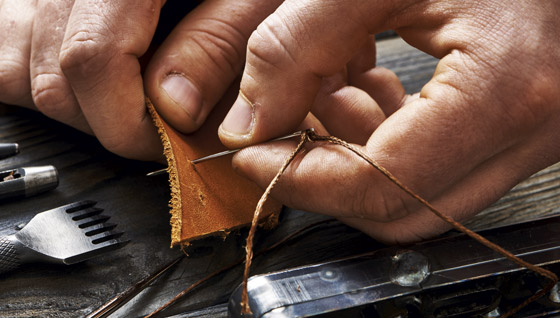 Specialised in the design and production of cases and accessories mainly for watches and jewellery, the craftsmen of the Vaudaux company produce one-of-a-kind models as well as series, devoting particular attention to each object.
In 1908, the Vaudaux family created a workshop in Geneva specialising in the design and manufacture of high-quality cases, trunks, accessories and leather goods for luxury Maisons and individuals. A century later, the high-level know-how of the craftsmen, who work daily to create exceptional objects, is still dedicated to excellence and to serving anyone wishing to customise or magnify a cherished model.
Owned and headed by Philippe Belais since 2010, Vaudaux produces high-quality leather presentation boxes and displays, whether custom-made or produced in series of several tens of thousands of units. To accomplish this, expert casing artisans master at least six trades, such as leather cutting, leather making, sewing, assembling and casing. It is by constantly combining and developing their know-how that the Maison's craftspersons create and enhance all types of products, ranging from highly specialised uses such as wine boxes, watch winders to the most unusual objects such as masks or even a fully leather-clad table football set recently made for a private individual.
The workshops
Located in the industrial zone of Vernier, in the Geneva region, the workshop employs some 40 highly qualified people, capable of meeting the most varied requirements. The raw materials used include leather, exclusive fabrics, precious woods, noble metals as well as various modern and innovative materials.
The design of each presentation box or other object intended to enhance a timepiece, jewellery set or other model begins with creating a digital model and plans. Then, within the joinery workshop, the wooden interior of each piece is cut out. Sanded and assembled, it then goes to the casing workshop where the leather will endow it with its full splendour. The base of jewellery displays – for necklaces and other luxury jewellery sets – is generally made of resin that is then encased in leather.
In addition to its Geneva workshop and in order to meet its partners' requirements, Vaudaux has had a subsidiary in Thailand since 2012 and, since this summer, the company has developed its own production lines in Elche, Spain, where the know-how related to the leather and intermediate products industry has been cultivated for several decades.
Expertise
For more than a century, the company's artisans have been perpetuating their know-how, consistently concerned with details, the delicacy of cutting and assembling, while instilling unparalleled quality into the presentation boxes and displays destined to showcase objects of fine watchmaking or jewellery. The choice of materials is also very important in this process. The leathers, carefully selected in Italy and France, must be finished with elegance and care.
Research and development
Even through ancestral manufacturing methods are still popular today, the company is constantly updating its methods and offering its customers innovative materials – including the currently very trendy vegan "leather" composed of recycled substances from plant rather than animal sources. Pineapple or coconut bark, cork, flax or hemp are alternatives to animal leather.
November 29, 2018